There are more than half a million restaurants in the US alone. That's a lot of competition for today's brands. In an environment so crowded, businesses need more than just a great menu to attract diners.
Restaurant branding gives you an opportunity to create a relationship with your diners, long before they've had a chance to eat your food. Through a brand, you establish an identity that your clientele can resonate with and convince them that you have the kind of experience they're hungry for. A restaurant brand identity gives your business the essential ingredients to connect with your client's minds, not just their stomachs.
Figuring out how to present your restaurant brand isn't always easy, but it's worth the effort. The identity you showcase through your company colors, menu choices, and other branding elements will help customers fall in love with your business and stick around for years to come.
Around 65% of a company's business often comes from existing customers. Brands give restaurants credibility, recall value, and a competitive edge.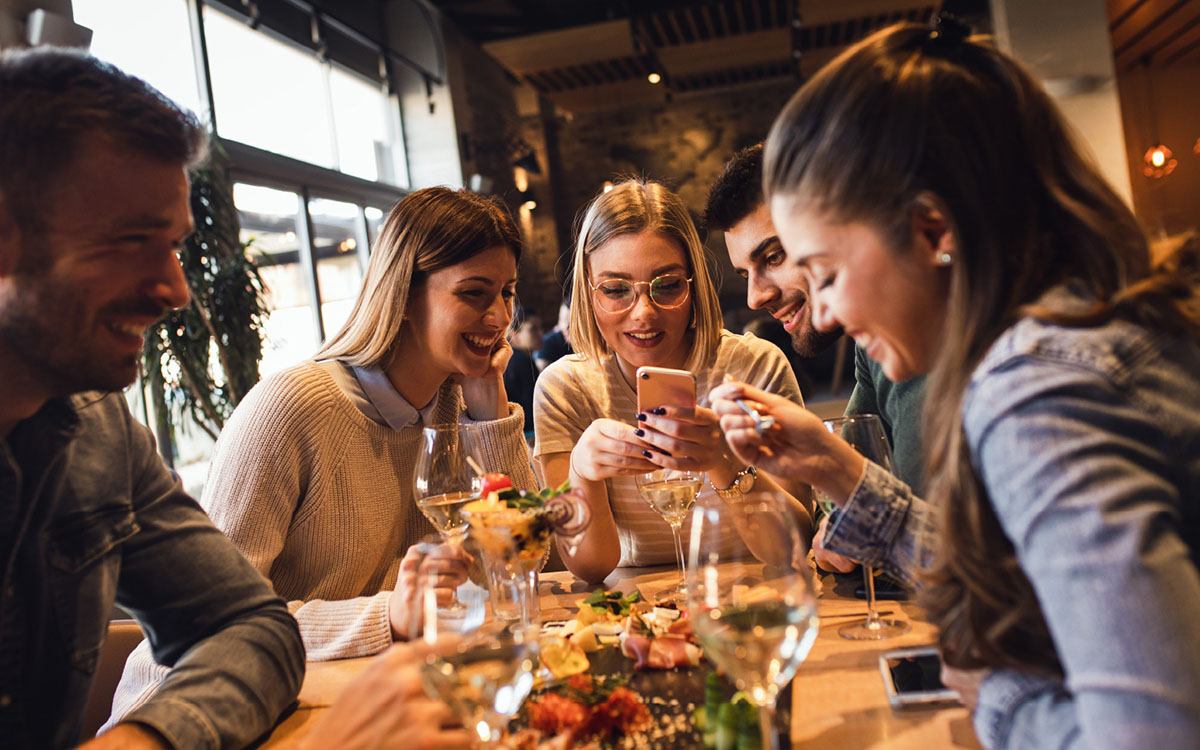 Positioning Your Restaurant: Crafting Your Mission Statement
What is your business all about? A mission statement gives you a guiding compass to use when you're building an unforgettable restaurant brand. It defines who you are, and what you stand for, so you can make better choices about your image, voice, and activities.
Mission statements answer the following questions:
Who are you?

What kind of restaurant are you running? What's the name of your company, and what kind of food do you sell? Do you specialize in gourmet meals, or family dining?

What do you do?

What kind of meals do you serve? Are you a lunch, brunch, or dinner restaurant? Can people order their food online and have it delivered? Can people make reservations, or request catering packages?

Who are you selling to?

What kind of customers are you trying to reach? Are you creating delicious food for people on a budget, or do you want to specifically serve people with a lot of cash to spend (and a more luxurious pallet)?

How are you going to do it?

How are you going to achieve your mission statement? Are you going to be providing great service and stunning décor to attract those high-class customers? Will you be selling meals according to special deals to appeal to more cash-strapped clientele?
Finding Your Why: Restaurant Brand Identity
Why did you build your restaurant? Were you obsessed with Mexican cooking from a young age, after learning recipes from a family member? Do you love the idea of feeding families, while making the world a better place through sustainable, locally sourced cooking?
Your why is what motivates you as a business owner, but it also gives you a story that you can use to connect with your customers. This story will inform your brand decisions.
Your why needs to be more than just "making money". A great restaurant branding strategy is built around a specific ambition or aim.
Starbucks

wants to inspire and nurture the human spirit one cup and neighborhood at a time. Their wide selection of products attracts different kinds of customers, and the way they serve their coffee allows clients to be creative.

Chipotle

wants to give the world real ingredients, purpose, and flavor. To do this, Chipotle is transparent about all of its ingredients, and often gets involved with a wide selection of community initiatives to make the world a better place.

L'Enclume

in Cumbria wants to bring people seasonal ingredients, handled with creativity and passion. To do this, the company sources local suppliers, and constantly changes its menu to deliver new tastes.
David A. Aaker, known as the father of modern branding, says that to understand your restaurant brand identity, you need to look at it from three different viewpoints.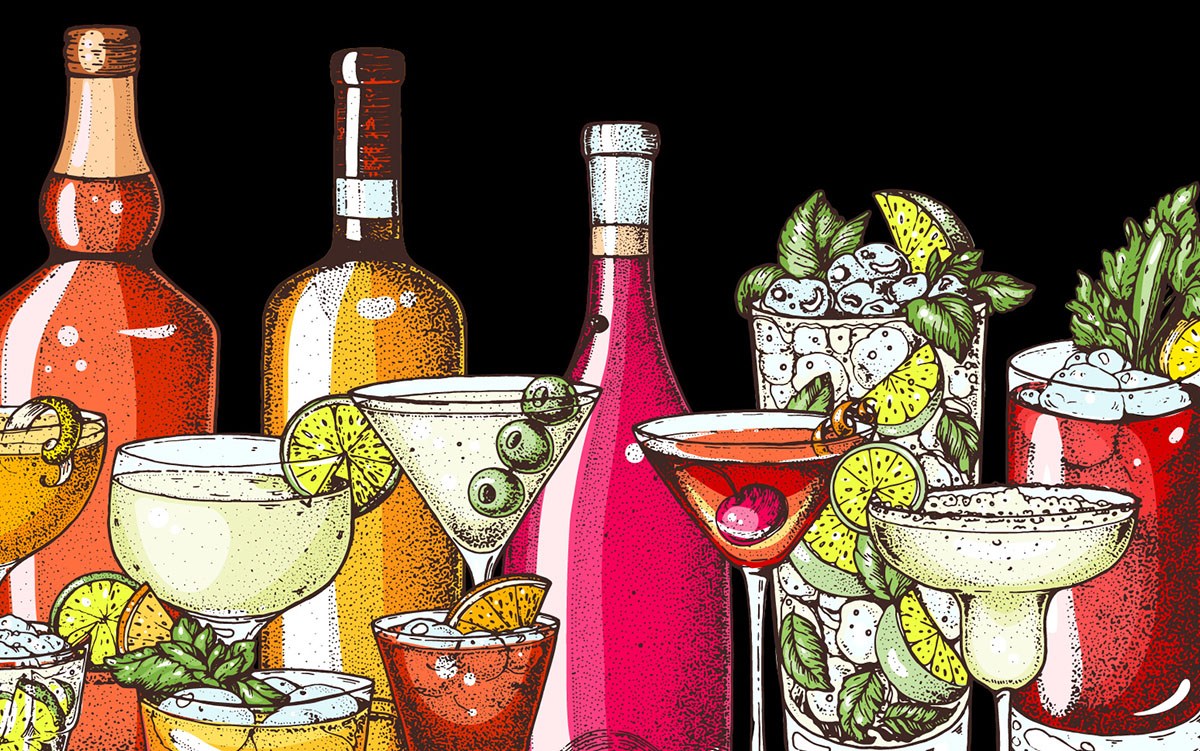 Your Restaurant Brand As A Product
Looking at your restaurant brand as a "product" means looking at the nuts and bolts of what you'll be selling to your customers, and what they say about your brand.
How will you source quality ingredients, and prove to your customers that you're giving them home-grown, locally sourced foods? How transparent can you be while still running an affordable business?
What do you mean when you promise "exceptional customer service?" How are you going to get food to your guests, and make sure they're happy with the experience?
How are you going to show your creativity compared to other brands? What kind of exclusive dishes to your offer? Can you provide new flavors that other people can't get anywhere else?
What kind of menu will you have? Will your meals be constantly changing, or will you have a few staples that your customers can always access?
What kind of service options will you provide? Are you offering sit-down experiences in a beautiful restaurant, take out, drive through, or a combination?
What kind of audience is your food going to appeal to?
Your Restaurant Brand As An Organization
Once you've figured out your restaurant brand identity as a product, you can think about the image you're building as an organization. This is about looking beyond what you serve.
What kind of values are important to you, your staff, and your customers?

Do you want to make sure all of your supply chain is sustainable and planet-friendly?

How will you ensure your values are conveyed through everything you do?

Can you be transparent about your recycling strategies, or work with local brands?

How does your staffing strategy dictate customer experience?

Are you willing to pay for the best chefs? Are you happy to bring up-and-comers into your kitchen?

Where does your organization fit within the bigger picture?

Are you helping the economy with lots of jobs? Are you bringing global flavors into a smaller community by sourcing worldwide ingredients?

Are there any community groups your restaurant is tied to?

Do you donate to any charities? Do you offer apprenticeships for student groups? Can you help by sending discount food or free meals to those in need?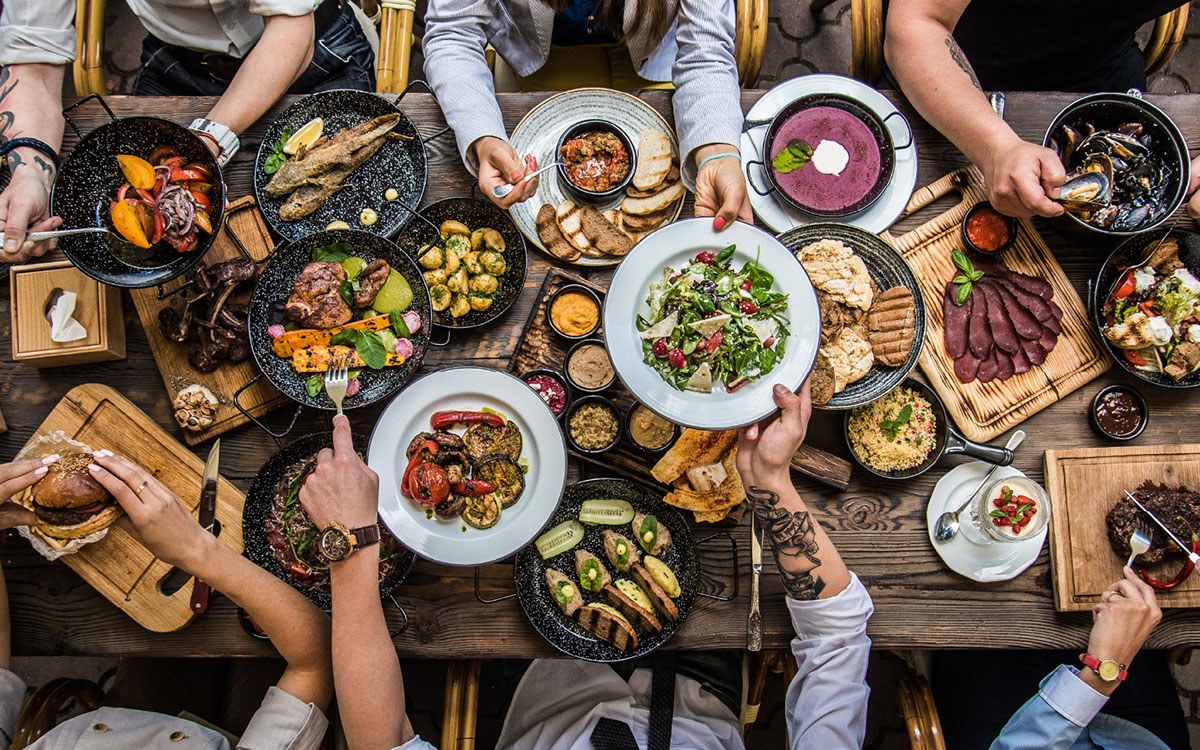 Your Restaurant Brand As A Person
Looking at your restaurant brand as a person might seem confusing, but it will be crucial when you're planning your restaurant branding ideas. You might have noticed that many of the biggest brands in the world have unique tones of voice, personalities, and images. This is because they look at their brand as a person, rather than just a faceless corporation.
What is your restaurant personality?

Are you fun and playful? Do you like experimenting with different flavors, and appealing to younger audiences with more unique decorative strategies and dining experiences?

What's your relationship with the customer?

Are you going to be an entertainer, promising your customer not just a dining experience, but a full night out? Can you educate your audience about a new food movement, or dietary style?

What's your story?

Where did this business come from? What inspired you to start selling these specific meals to your chosen audience? Why are you running your business the way you choose to do so today?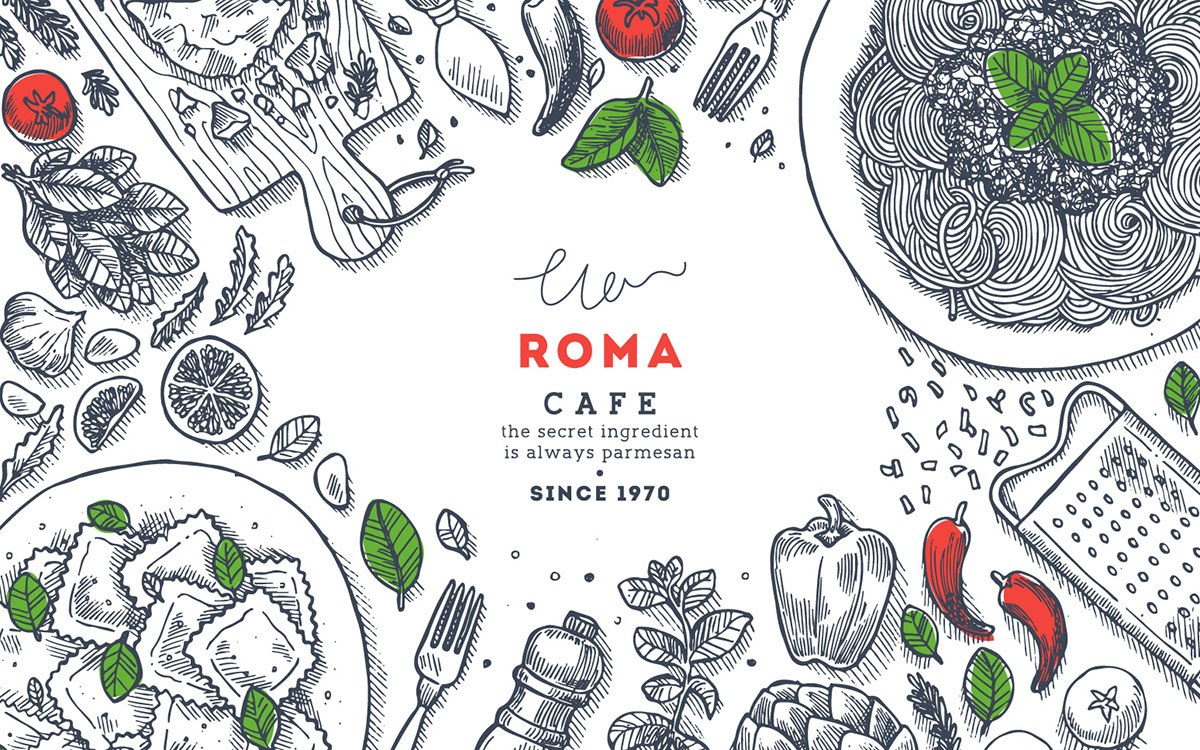 Crafting Your Restaurant Brand Identity
It's time to envision what your brand is going to look, feel, and sound like.
Your restaurant branding ideas need to convey everything your business stands for. The right brand should spark meaningful responses in your audience and create emotional connections with your customers. With the right ingredients, a good brand can inspire and captivate your customers long before they ever taste your food.
As your business grows, your branding elements may evolve too. However, initially, you'll need to ensure you get the foundation elements right. A restaurant brand should include:
A Restaurant Name
Your name is a huge part of what defines your restaurant. Before anyone has a chance to check out your menu or walk into your dining establishment, your name will tell them what to expect. If you're a French company selling French food, then it makes sense you'd choose a French name. This name would automatically tell customers what to expect, even if they don't know the meaning of the word.
Restaurants with personal names attached to them also have an impact on your restaurant brand identity. Something like "Valerie's Diner" automatically tell diners they can expect home-cooked foods, and comforting classics. A creative name like "The Rainforest Temple" would tell customers they can expect something a little different.
A Restaurant Logo
Your logo is second only to your name in delivering useful information to your target customer. Your logo is a visual representation of what your company stands for. If you're a vegan restaurant, you might choose a logo that includes aspects of nature and plants. A family restaurant might feature a smiley face, or a group of people.
Not all restaurants use an emblem as a logo. If you don't think an image would add anything to your restaurant branding, you could use a wordmark instead. A wordmark is just a stylized version of your name which you can use on your menu, your restaurant signage, and your website. If you choose this option, think carefully about how your typography choices will affect the way people see your brand.
Your Restaurant Online Presence
Designing your restaurant brand identity in the digital age means having a strong online presence. Most customers search for places to eat online, particularly if they're exploring a new location. Around 72% of online searches for restaurants in the US take place on mobile devices.
A strong website design with mobile-responsive booking apps and contact sections will ensure you can attract as many diners as possible. Your website needs to be easy to use and brimming with all the right information – like menus and booking options.
You can also look into building social media accounts where you can attract attention for your food. Facebook is a great place to attract potential customers, while Instagram gives you a chance to show off your dishes in a visual way. Having a social media presence also opens your restaurant up to the possibility of influencer partnerships.
Restaurant Decor And Ambiance
When you're branding an ecommerce company, you only need to think about branding digital locations, like a website or social media profile. With a restaurant, you need to design a physical space. Your brick-and-mortar establishment should align perfectly with your business website, brand colors, logo, and any other visuals assets you use.
Think about the experience your customers will get when they walk into your restaurant. What will they see, hear and smell? What colors will they see on the walls and tables? Are those colors similar to the ones on your social media posts and website? What will your customers smell, and what kind of music might they hear? Other décor and ambiance points to consider include:
Table settings:

Will diners be close together or spread out?

Decorations:

Will you have paintings? Candles? An old piano in the corner?

Meal presentation:

Will food be served on slate slabs or plates? Do drinks come in fancy glasses or mason jars?

Lighting:

Will the lighting be soft and romantic, or bright and fluorescent?

Comfort or style:

Will you prioritize relaxation and coziness, or fashionable design?
Brand Representation
Everything from your choice of cutlery to the music you play influences your restaurant brand identity. There are some parts of your physical space which are linked to your brand logo and name. Since people will see these things alongside your logo, they're more likely to build associations based on them. Consider your staff attire.
Most employees in a restaurant have their company name on their clothes. How are you going to identify the people who work for you? Will people be dressed as stylishly as possible, or are you going for a more modern, casual look? If you have a themed restaurant, you could place your staff members in costume.
Your menu also showcases your brand name. Think about how you're going to display the meals and drinks you have available. Will you show the prices on the menu, or wait until a meal is requested? How are you going to name your signature dishes? You might choose names that align with your theme, like the "Elvis Burger", if you're a music-themed diner.
Restaurant Brand Colors
Colors have a psychological impact on customers. The most common colors in fast-food settings are red and yellow. This is because red and yellow stimulate hunger. When you're designing your restaurant branding strategy, you'll need to choose colors which stand out from the crowd, but also have the right impact on your audience.
Some shades won't make sense in a dining establishment, such as sickly greens and browns, or bright yellow and black (similar to a hazard sign). Others are specially suited to certain kinds of restaurant. Greens are associated with vegan and vegetarian restaurants, as well as Italian locations, like the Olive Garden.
Purples, deep blues, and golds often demonstrate things like luxury and indulgence. If you want to design a classy establishment for people with a lot of money to spend, you might experiment with these colors.
Restaurant Service Experiences
A restaurant's brand is built heavily around the experiences it can give customers.
You'll struggle to build a reputation as a fast-food restaurant which serves quick meals to people in a hurry if you're running a sit-down eatery. The services you offer will influence what kind of customers you attract and what they think about you.
If you're running a take-away place, ask yourself how your customers are going to place and receive orders. Can they make orders through your app? If so, you'll need to design a fast-paced app experience that appeals to a younger demographic. If your audience need to call to place an order, this could help you to build a reputation as a more exclusive place.
If you're operating a sit-in restaurant, how easily will people be able to get a table? Can your customers walk in whenever they like, or do they need to have a reservation? How can your customers book reservations, and what kind of extra services can you offer when they're in the building, such as special accommodations for people with disabilities?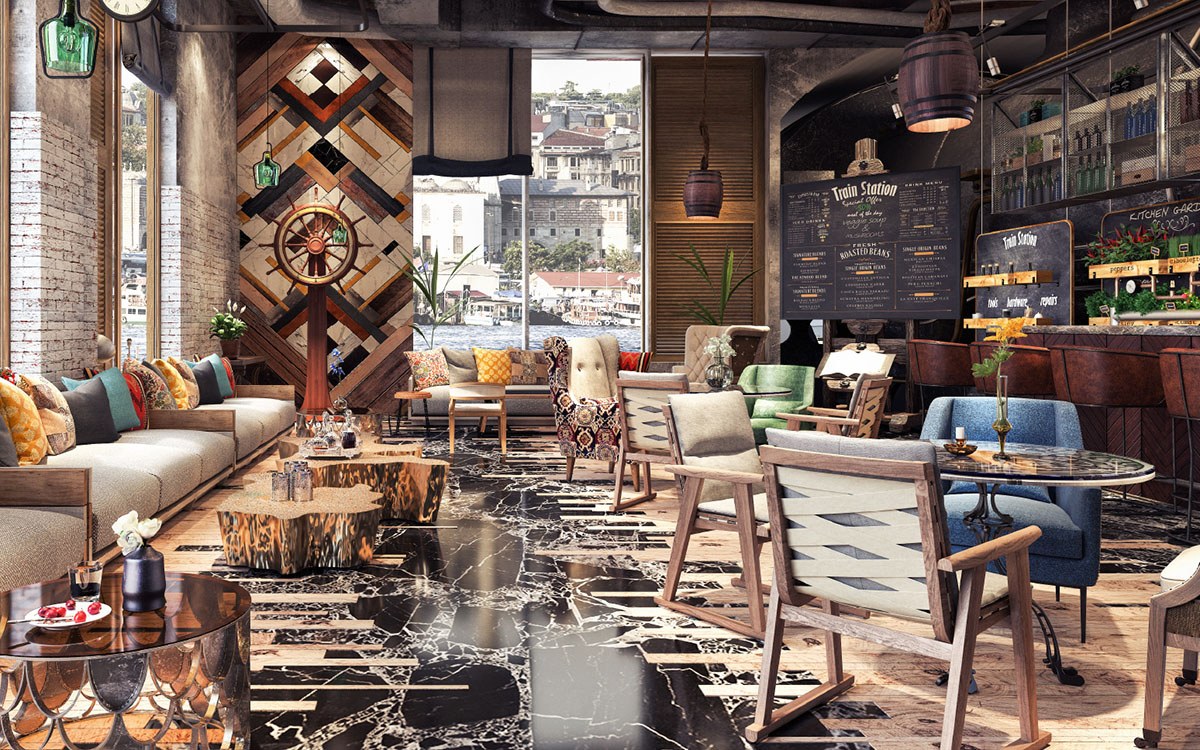 Creating Your Restaurant Brand Identity
For years, restaurants relied heavily on leaflets, word of mouth, and in-person advertisements to attract diners. The chances are you'd only hear about a restaurant if you lived in a specific city or town. Now, people all around the world travel miles just for a chance to eat with the best restaurant brands. There are even restaurants that sell T-shirts and memorabilia with their brand name and logo to fans across the globe.
As customers continue to prioritize meaningful experiences when spending their income, restaurants are in an excellent position to generate both revenue, and customer loyalty. To generate the best results, your restaurant needs to turn customers into fans, or brand advocates.
A great restaurant brand identity gives your customers a story to believe in, an insight into your food, and a stronger emotional connection with your company. It's that brand that encourages your customers to keep eating with you, month after month. Your brand could also be what transforms your restaurant from a local dining spot, into a must-visit destination in your city or state.
A successful, profitable restaurant is all about creating an experience that stands out the crowd to win over hungry, intrigued diners. Work with restaurant branding experts to help you create a restaurant brand that grabs attention and market.