The question for modern SaaS ventures is: what separates a successful company from another failed launch? The answer: proper branding. 
SaaS brands spend around 92% of their first-year revenue on customer acquisition. As the marketplace grows more crowded, it's becoming hard to stand out among the clutter. Branding for SaaS companies is like giving your marketing strategy a megaphone.  It is how your company breaks through the sea of same brands to connect with customers on an emotional level.
Research proves that meaningful (well-known) brands with a viable personality outperform on the stock market by up to 206%. 
Creating the right brand strategy for your business is how you separate your SaaS brand from the competition.
Why Is SaaS Product Branding And Identity So Valuable?
Regardless of size, 88% of businesses say they're planning on investing in more SaaS applications in the coming years. The SaaS model offers customers the opportunity to adapt new technology which changes at break-neck speed.
It's never been easier to build a SaaS business. A wealth of tools, infrastructure, APIs to code against makes the cost of entry lower than ever. But all of this brings increased competition. There are currently over 10,000 private SaaS companies. This also means that there's a lot of other SaaS companies competing for the same customers. In the video conferencing sphere, customers can choose between Slack, Zoom, Skype, Facebook Messenger and dozens of other contenders to do the same thing.
You need a way to stand out from the crowds offering similar solutions to you. That's where branding for SaaS companies comes in. Branding your SaaS organization:
Develops trust:

Companies that can create a human image for their brands leverage more trust from their customers. Your brand helps your customer to understand the meaning behind your company. 

Creates confidence:

 As technology continues to evolve, clients will be drawn towards the brands that demonstrate the most credibility and thought leadership. Your branded content, website, and imagery will make you appear more professional.

Strengthens customer relationships:

 With your brand, you demonstrate why your business is the best to address your customer's problems. You can show that you share the same values as your audience and build an emotional connection as a result. As your customers fall in love with your brand, they become repeat buyers, frequently choosing you over the competition.

Makes you memorable:

 What's going to make you stand out from the crowd? Branding differentiates your company and helps your message to stick in the mind of your audience. Apple's bold and refreshing image combined with slogans like "Think Different" set it apart from other tech companies in the same industry. No other business has the same innovatively designed products, and modern marketing.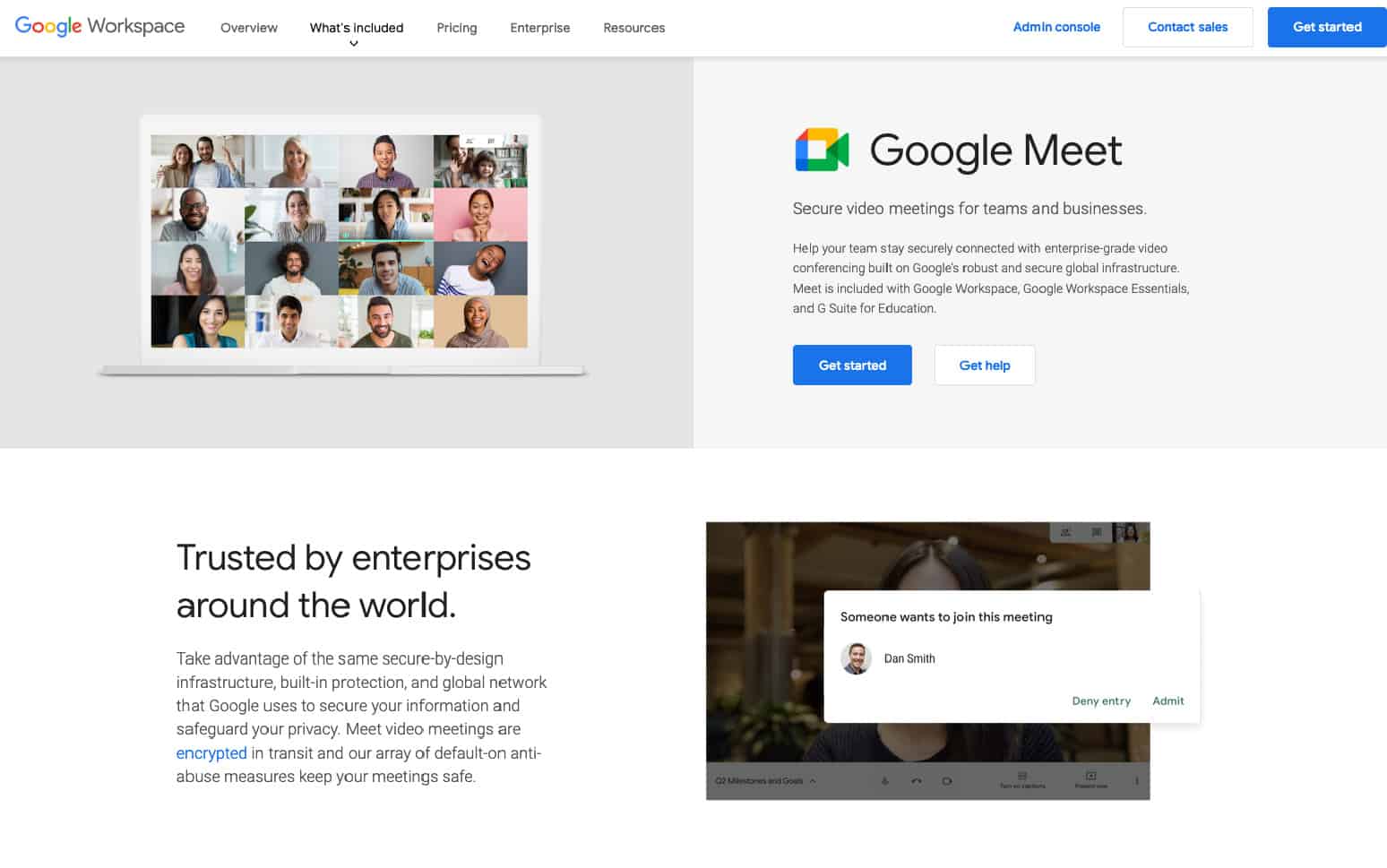 How Can SaaS Companies Build Their Brand?
Branding your SaaS company is how you develop ongoing awareness for your brand. The right strategies will make your business memorable, more appealing, and more likely to generate sales. It's not enough to just have a good product or service anymore. There are dozens of SaaS companies with similar products, all promising the best features and prices. The only way to earn customers is to prove you're different from the moment your client first sees your business. That's what branding can do. Here are the steps involved in building your brand:
Get Your Story Right
What makes you different to your competitors? Start your narrative by deciding what your mission is. Let's take Intercom as an example, whose mission is to make "the internet business personal" and bring more humanity to teams connecting over the web. As the world of work becomes more digitized, that's a valuable mission to have.  
SaaS companies thrive when they build a product that targets a specific problem for a unique audience. If your audience are busy accountants trying to manage a huge number of demanding clients, then you'd position your SaaS product as something that can help those people to manage their time more effectively. You might highlight the benefits of your software by showing how it can save a certain number of minutes on specific tasks. Even your logo could reference time, with the hands of a clock.
Developing the story behind your brand means understanding your unique points of differentiation, and how they appeal to your audience.  What problem are you could to be solving for your clients? That's the heart of your story.
Do you want to simplify a complicated task for your customers, or give them access to features they can't get elsewhere? 
How are you going to deliver results in a way that differs from your competition? Can you:
Deliver a personal approach with excellent customer service? 
Provide a better pricing promise or value?  
Offer additional features or services compared to your competition?
Define Your Voice and Tone
Your voice is the verbal persona and attitude of your company. You may be more personal and informal, or you might be professional and sophisticated.
To define your voice, think of around 3-5 adjectives that characterize your company. Are you technical, specialized, and sophisticated, or more friendly and informal? How would other people define your company?
Check that your brand's tone of voice matches with the identity you're showing to your consumer and the larger market. If you want to be conceived as friendly and playful, use informal language and emojis in your social media posts. To come across as pioneering, use statistics and figures that show how your products are breaking the mold.
Create A Set Of Brand Guidelines
Brand guidelines are essentially the must-have components of the image you're trying to build. Everything from your company colors to your tone of voice on social media should work together to deliver a constant image.
When it comes to branding your SaaS product, these rules will keep your teams, and any marketing agencies you work with consistent. A few points to consider include:
Your name and any acronyms you use
A one-line description of your company
Your voice, and the adjectives that describe it
Your visuals: brand colors, typography, icons, logos, photos   
The emotions you want to convey with your marketing materials  
Anything that differentiates your brand from other companies in the SaaS marketplace should go into your brand guidelines. You might also include references to other companies that you feel your business is like, as a point of reference for your staff, and agencies. 
Brand guidelines are an excellent way to identify all the factors that make your business unique for your employees, clients, shareholders, and anyone else invested in your brand. They're the compass you can use when making decisions about how to grow your business or what kind of marketing materials you should produce.
Without a strong set of guidelines, it's easy for companies to end up with disjointed ideas about what their business stands for.
Build Your Online Presence
Every SaaS company needs a website that can communicate the value of both their product, and their brand. 
The website you create should be an extension of the brand image and identity you want to create. Customers often judge companies by the experiences they provide. If your site is difficult to use, then your clients won't believe that you're an innovative tech company. Your website should be just as immersive, intuitive, and user-friendly as the SaaS solutions you sell.
When building your online presence, think about the message you want to send to your customer. The image you build on your site should also extend to any other digital resources you have, such as your social media profiles, email marketing newsletters, and any external advertising materials you use.
SaaS companies are businesses born into the digital age. If your customers are looking for software, they're going to start that search online. Having an active brand presence on the web demonstrates that your SaaS company is tuned into the technology environment. The more you build on that presence with an attractive website, thought leadership content, and even video streams, the more your credibility grows.
Buyers will see your digital presence as evidence that your company is real and professional.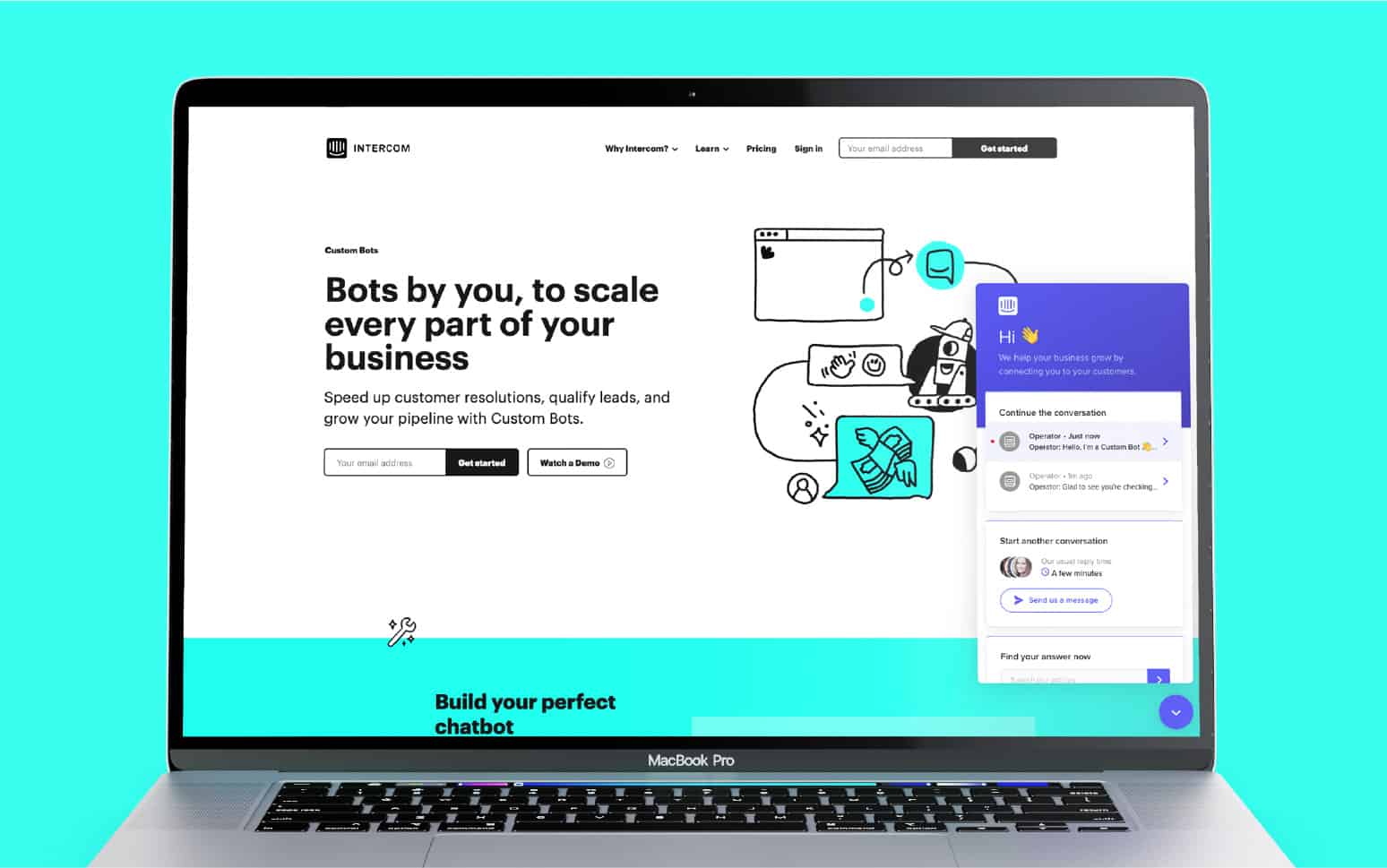 How To Spread Awareness Of Your SaaS Brand
After building your brand with the five steps above, the next step is sharing it with people.
Your website and online presence are a good first step, but you'll need to go a lot further to convince your customers they should choose you over your competition. Learning how to generate brand awareness ensures that you can scale your SaaS start-up. Here are a few methods you can try.
Start A Referral Program
Word of mouth is the best way to generate attention for a brand. Your customers are more likely to believe in the positive things that other clients say about you. A referral program rewards the customers that are loyal to your SaaS company with extra bonuses like discounts and gifts. It also attracts new clients to your service.
Dropbox, the cloud storage service used a referral program giving 16GB of free space to both the person who referred their friend, and the new customer. In return, Dropbox earned 4 million users in just 15 months.
Make Your Brand Stand Out In Your Marketing
Your brand needs to shine through in everything your business does.
Use your brand guidelines to make your marketing more memorable for potential customers. A unique brand voice can make your content marketing more appealing, by ensuring you speak to your customers in their language. SaaS companies often use a lot of jargon in their content, so a company that can speak plainly could attract more clients.
HootSuite, the social media SaaS provider, broke records with their video marketing campaign that added a unique spin to the "Game of Thrones" television show. The video earned over a million views and helped HootSuite to speak to a younger audience. By adding their unique brand style to their marketing, HootSuite stood out from the crowd.
Experiment With Influencers
Social proof is growing increasingly valuable for SaaS companies. Any positive reviews about your business will make your SaaS brand more credible. People talking positively about your software after they test a demo means you have proof to back up your claims.
If you can get someone your clients trust to positively review your solution, your brand reach will grow even further. By 2022, market analysis predicts that influencer marketing will be worth more than $15 billion. Find an influencer that your target audience trusts and ask them to review your product.
Partnering with multiple relevant influencers in your industry helps to establish trust between your brand and the people who already follow those thought leaders. It's a great way to reach new customers you may not have encountered on your own.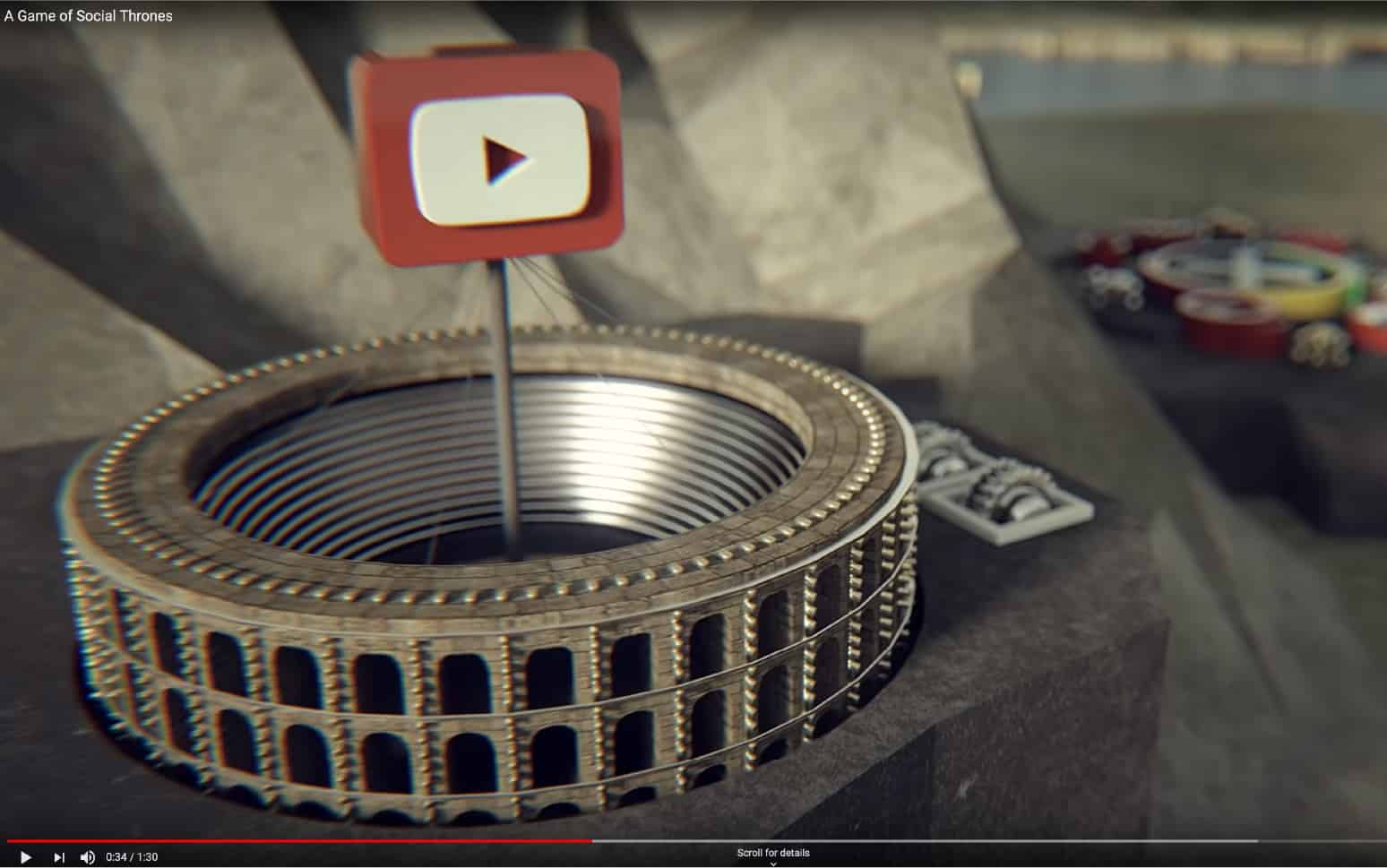 What B2B Brands Can Learn From B2C Companies
Think of a B2C company that you love. It could be Sony, Logitech, Innocent Smoothies, or Apple. What do you like about the company? Whether you're drawn to the marketing they use, or the design of their products, your relationship with every company starts with a brand.
Coca-Cola uses it's bright colors and fun messaging to show customers that it's a friendly, informal brand. McDonalds advertising, product packaging, and online campaigns center on the promise of convenient fast food and happy consumers.
Unfortunately, B2B companies often struggle to make their brands stand out. When you're appealing to business buyers instead of everyday consumers, you still need to make an emotional connection.
Your brand is how you answer the question "why should I buy" for your customers.
Your buyers will still look at your brand for evidence that you can offer a professional and reliable SaaS experience.
Look at Slack, a company that's transformed the world by promising simple and effective ways to communicate. Slack customers love its user-friendliness and wide range of features, but they also appreciate the friendly branding that makes the tool more accessible.
Here are some lessons to take from the B2C winners in the industry today:
Keep customers engaged:

 When a client is interested in your service, they should be able to find answers to their queries instantly. This keeps the customer journey running smoothly and improves your chances of a sale. Live chat, instant phone call options and informative content will make your brand seem more professional, while improving your bottom line.

Personalized content is key:

  B2C companies are mastering the art customized recommendations and interactions with clients. More personalized content shows your audience that you understand their needs. It's also a fantastic way to explain how your software works, so your clients know how to leverage it.

Create effortless experiences:

 Every brand asset you build needs to both convey your identity and deliver amazing experiences. A great website with a mobile app showcases what your organization is all about. It's not going to have the right impression if your audience doesn't know how to use it. Give your clients the simplicity they crave.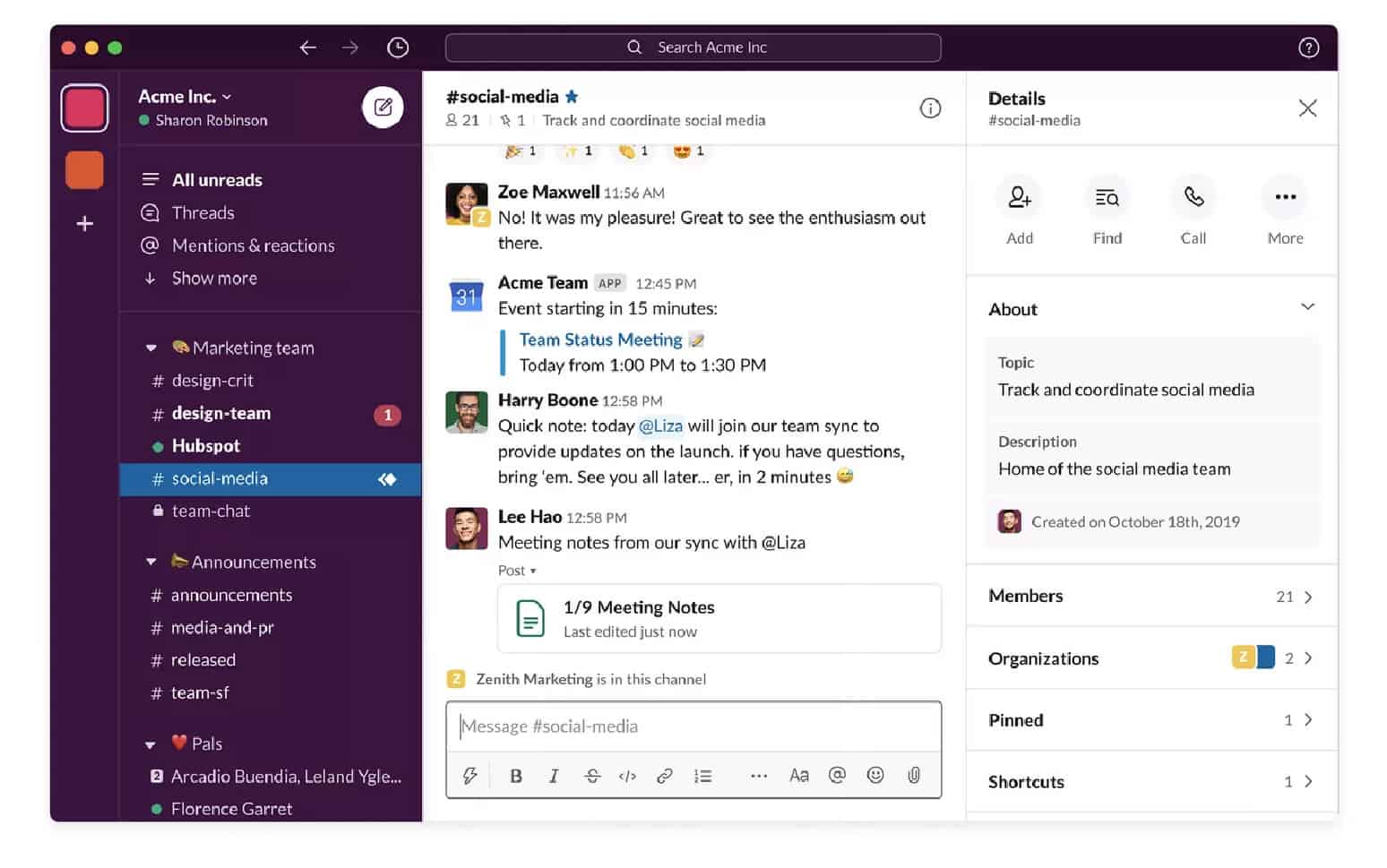 5 Examples Of SaaS Product Branding Done Right
Competitor analysis can be the best source of inspiration. Let's see how some leading SaaS organizations are already driving amazing results through branding.
Basecamp
Every asset that Basecamp delivers, from its software through to its website, maintains the same clean look and feel. Every page provides concise information that guides the customer through their software journey. Basecamp:
Promises a friendly and easy-to-use experience for customers
Guides every client through the software with an informal tone of voice 
Uses hand-written notes and quirky imagery to appear more approachable
Maintains the same brand colors on every brand asset
Breaks its values down into simple ideas, such as easier remote working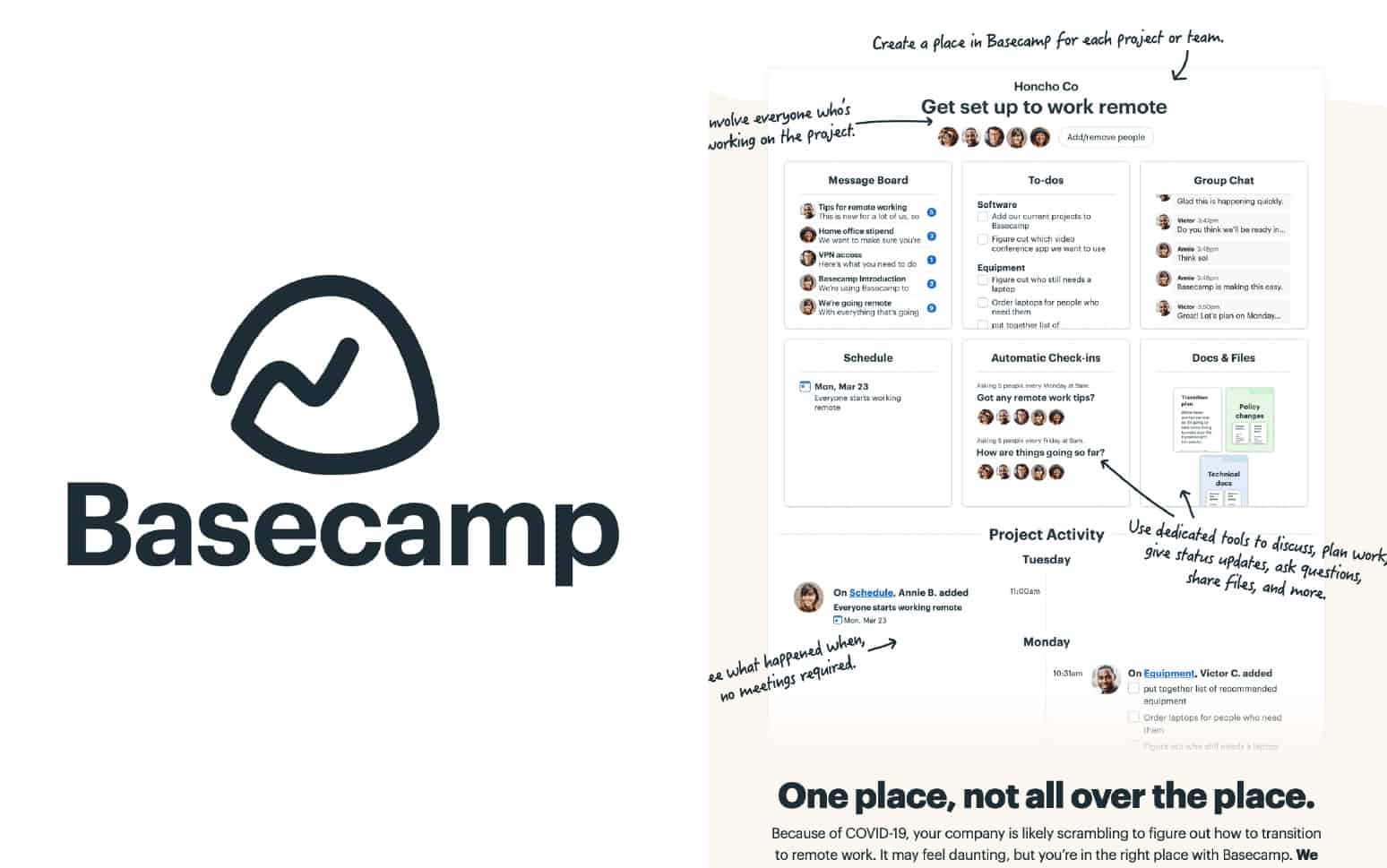 Slack
Slack transformed team communication and collaboration almost overnight. They provide customers with a simpler way to manage conversations, intended to reduce reliance on the inbox. With consistent SaaS product branding, Slack:
Delivers a consistent user interface across all desktop and mobile systems
Guides customers through the experience with bots and advice
Maintains a constant visual identity in every ad, commercial and website 
Talks with an approachable and friendly voice to make software more accessible
Presents itself as a solution for everyone, with a free version for beginners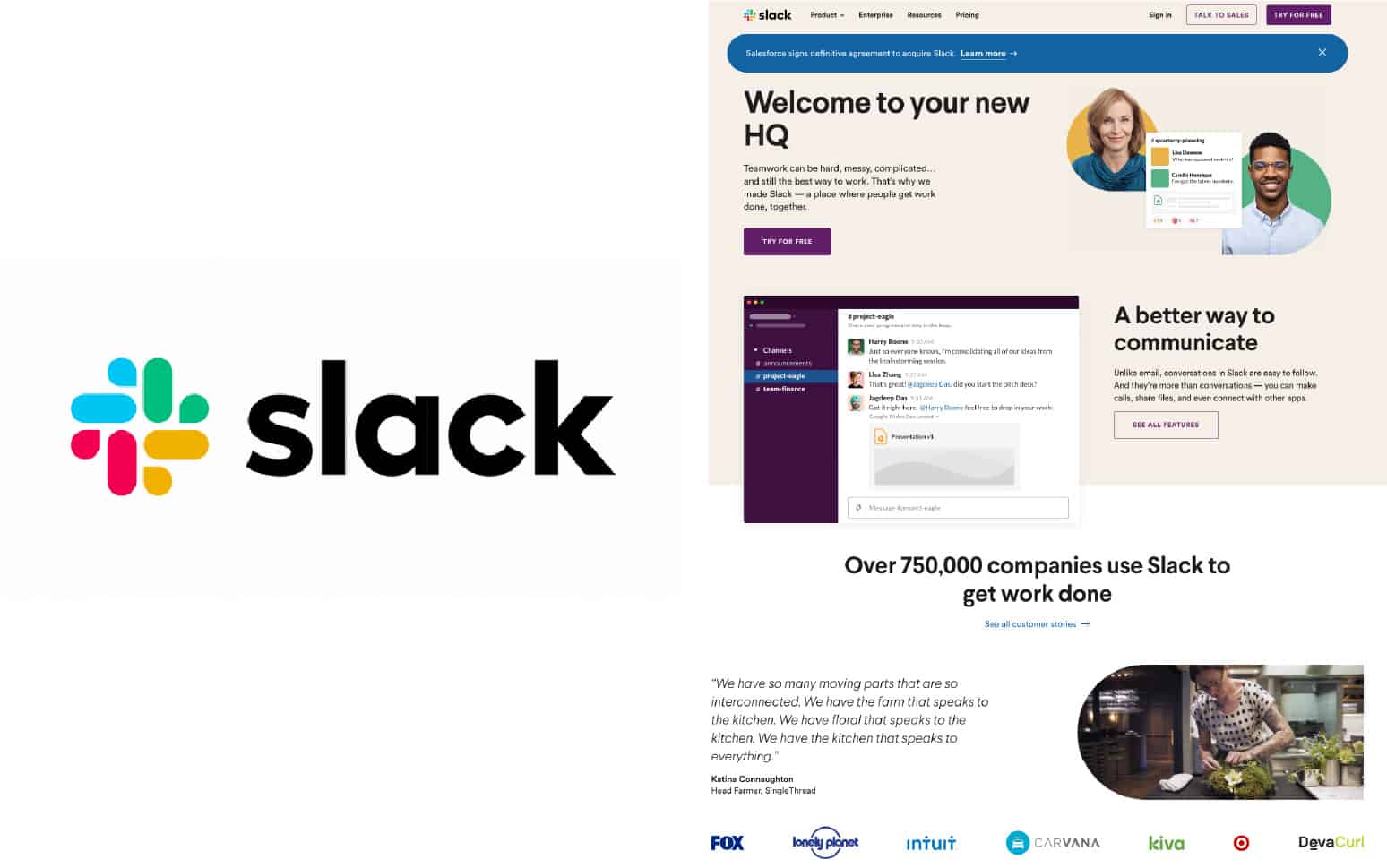 Quickbooks
Quickbooks is one of the better-known SaaS companies on the market today. The service this company offers has changed alongside the evolution of the market. The main focus of the brand is still on making accounting easier. Quickbooks:
Keeps the UI is simple and intuitive on any operating system   
Provides support and guidance for beginners – showing thought leadership
Appeals to both accountants and their customers with different messaging
Maintains a voice that's both authoritative and jargon-free
Holds onto the same consistent brand image on every channel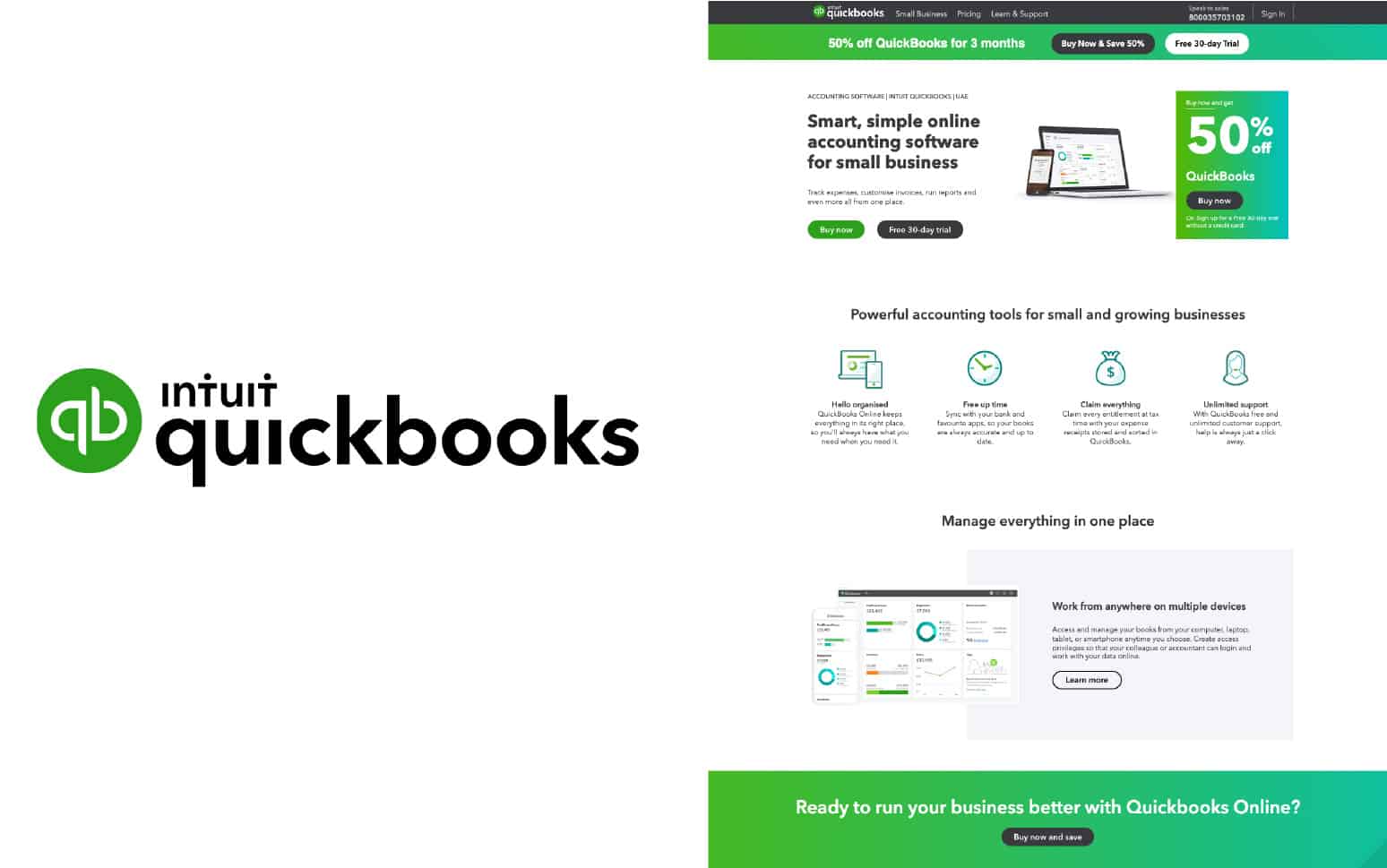 Microsoft Teams
When Microsoft first rolled out "Teams", it was a replacement for Skype for Business. Today, the solution is a full component of Microsoft's overall brand. Through carefully chosen branding for SaaS companies, Microsoft has:
Aligned the Teams environment with other products in Microsoft 365
Maintained the same image across all Microsoft products
Ensured a consistent voice across every Microsoft platform
Promised to make collaboration easier with tools for every business
Simplified the desktop with a familiar and consistent interface
Trello
Project management and collaboration tool, Trello, took a different approach to branding to most SaaS businesses. Rather than focusing on marketing, the company invested in a more user-friendly product that businesses really needed. Trello also encourages customers to review their product, leading to better word-of-mouth appraisals. With their branding, Trello:
Shows their authority through constant social proof
Maintains an authentic image with minimal promotional efforts
Offers the same consistent user interface on any device
Shows a down-to-earth image that doesn't rely on hyperbole
Has a friendly and approachable voice that encourages feedback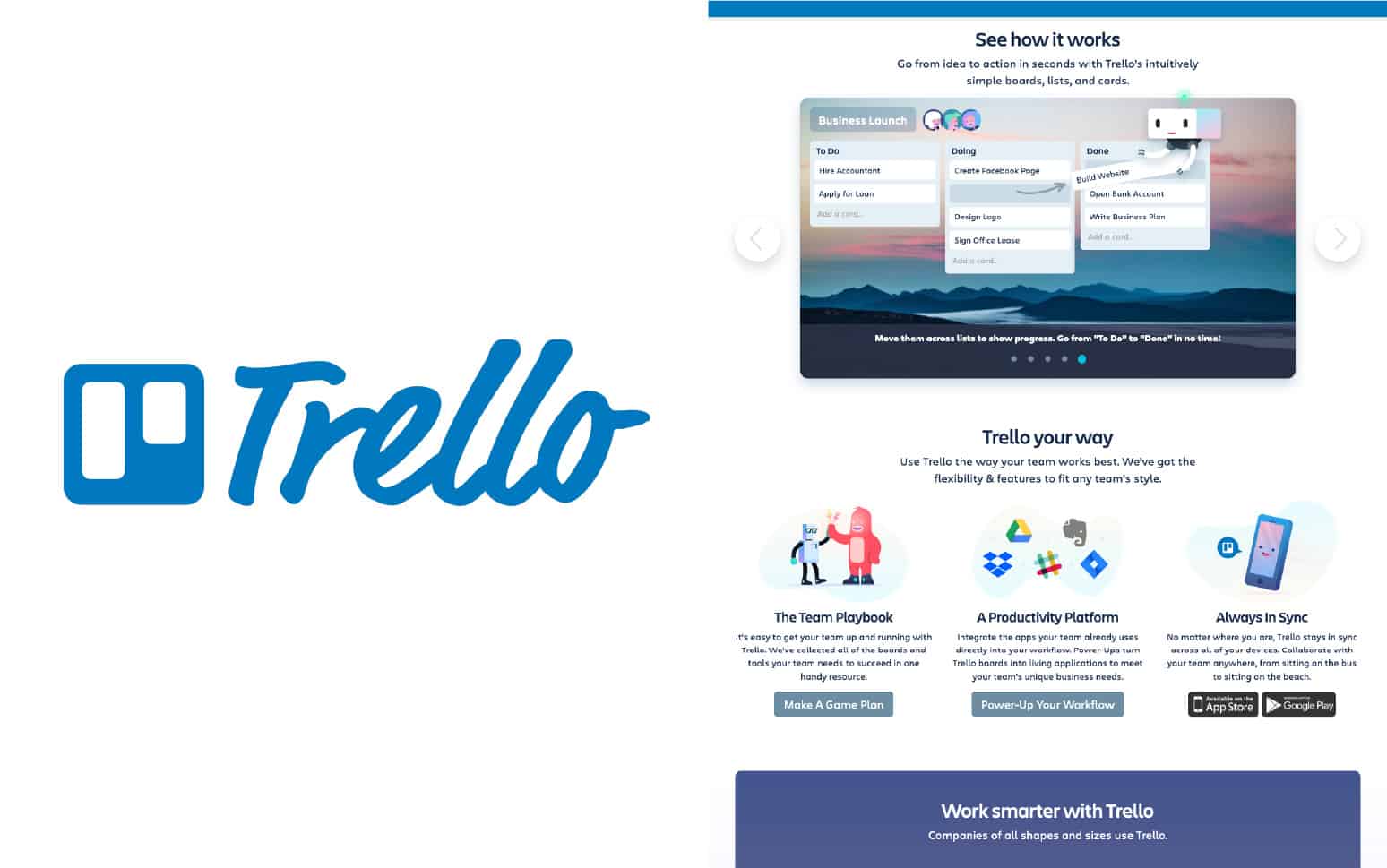 It's not enough for SaaS companies to have a good product. Branding and content are critical to rise above the competition.
Developing a strong brand personality and voice is vital, as is clear brand positioning.
Content and brand storytelling is a great way to get exposure for your new SaaS business.
Establish A Strong Brand Presence And Voice
Focus on your brand's unique selling point. Setting your brand apart from the competition is critical. For your SaaS startup to grow, you need to develop a strong sense of what your product offers and to communicate that in a way that differentiates it from all other available products (branding).
Successful B2B brands are no longer chasing the shadows of their more innovative B2C counterparts. The most successful SaaS companies understand that Branding and Positioning are effective methods for getting your ideal audience to pay attention, sign up, and stay with you long term.