Cisco predicts that by the end of the year, around 82% of all internet traffic will be comprised of video views. From reels on Instagram, to TikTok videos, YouTube content and custom-made motion graphics, dynamic content is everywhere.
Video and motion are rapidly emerging as the industry standard for marketing content, in a world where consumers want fast, convenient, and engaging access to information. These content assets allow your brand to send compelling marketing messages across a range of channels, connect with your audience on a deeper level, and establish an unforgettable brand voice.
Today, more than 4 in 5 marketers say video consistently delivers a good return on investment. Video and motion-based marketing content can also help companies to grow revenue up to 49% faster. The key to unlocking the multitude of benefits offered by motion, is learning how to leverage video and animated content effectively.
The Benefits of Video and Motion Graphics In Marketing
People are watching more video content online than ever before, with video-based content consumption almost doubling since 2018. With motion graphics and video, customers get a more engaging, informative, and multi-sensory experience when connecting with companies. The benefits of video marketing and motion graphics include:
Cohesive Brand Identity
With video and motion graphics in marketing, companies have a variety of ways to convey useful information about a brand. You can use your videos to demonstrate your unique tone of voice through specific language and a choice of accompanying music.
Videos and motion graphics are also excellent for highlighting things like brand colors, values, and what your company looks like. With a variety of different kinds of content, you can combine things like music, shapes, colour, and design to create a truly unforgettable brand identity.
Versatility
As the world becomes increasingly video-focused, it's possible to use video and motion graphics in a range of different platforms, for a variety of goals. You can use videos on social media to connect with your customers. Starbucks frequently uses animated motion graphics to grab attention for customers scrolling through their feed on Facebook.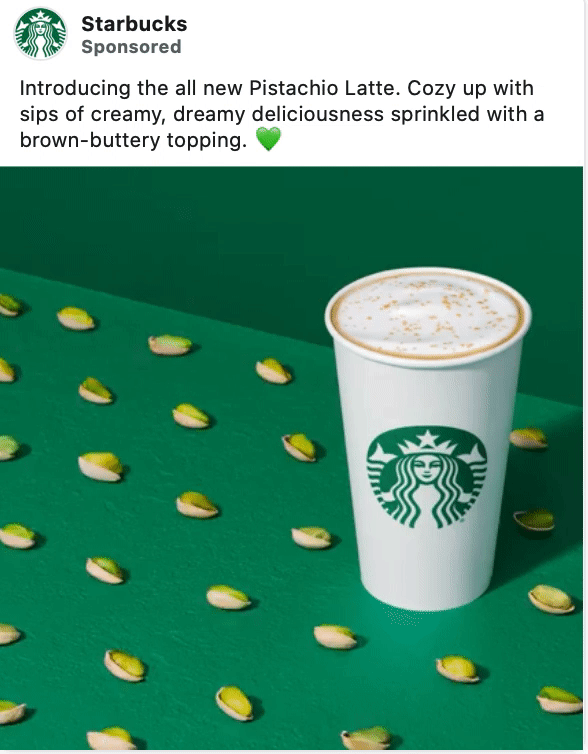 You'll also be able to use corresponding video and motion graphics throughout your online ads, business, and sales presentations, and even at offline events. By leveraging dynamic content on a multitude of different platforms, you enhance the consistency of your brand, and improve your chances of reaching a wider audience.
It's Simple and Easy to Consume
Today's consumers don't always have time to read eBooks and long explainer articles to understand a product or service. One of the main advantages of using motion graphics and videos, is you can transform a lot of information into an easy-to-follow guide.
In the example below, the thought-provoking video content highlights how Shell is working on "creating the future" for its audience.
Companies can use a similar video marketing strategies to introduce their customers to complex ideas or missions, or even explain how a product works.
Engaging Content
If your audience enjoys your motion graphics and videos in marketing, it increases purchases intent by 97%, and brand association by 139%. In an environment where customers are used to seeing companies posting YouTube videos and a host of other dynamic content online, they're likely to be more engaged by moving, animated assets. Video can even help make otherwise complex or "dry" topics seem more interesting.
L'Occitane uses video in this example below to explain how their packaging process works.
With similar video strategies, you can create a more eye-catching way to share valuable information with your audience, in a way that improves your company's credibility and transparency.
Higher Retention
Approximately 65% of viewers watch over three quarters of the video they see. Meanwhile, a lot of written content can end up losing your customer's interest after a short while.
Imagine if IKEA had chosen to release an article about the latest products in its Summer collection, rather than using motion graphics in marketing. This video content is a lot more eye-catching, and more likely to keep customers excited and learning about the latest products to arrive on the market until the video ends.
It's Shareable
Video content is naturally shareable. Many of the platforms available for sharing video content come with sharing buttons baked in, so viewers can instantly copy a link or post something straight to their own social media feeds.
Today's audiences want to share content which makes them feel good with their friends. They're also more inclined to share emotional videos and content which resonates with their values.
With around 100 million hours of video watched in a day on Facebook, video and dynamic content can help you reach your audience much faster. All you need to do is make an emotional connection, like Charles Schwab does below:
Excellent ROI
In the past, creating effective video content used to be a lot more expensive and time-consuming than it is today. Now, using motion graphics in marketing and designing your own videos can be a lot less expensive than you'd think.
Companies can leverage the support of professionals to help bring their video and motion-based content to life in minimal time. What's more, the return on investment is significant. The additional traffic you get to your website from video content, combined with an increase in positive customer perception can significantly boost revenue.
Remember, video also improves SEO by improving the amount of time your customer spends on pages within your website.
Types Of Motion Graphics in Marketing to Boost Your Brand
Video and motion graphics come in a range of different formats and flavors. Companies can create everything from comprehensive IGTV videos sharing behind-the-scenes information about their brands, to simple, shareable animated graphics.
Some of the most common video marketing examples you're likely to implement into your strategy include:
Explainer videos offer a simple introduction to how a product or service works, or what your company does. These videos are often extremely useful at helping your customers understand you, and the values you can offer.
For the best results, keep your videos short and simple, as studies show engagement often peaks when a message is 1-2 minutes long.
Animated Infographics
Animated infographics are excellent for adding visual interest to a page and capturing the attention of your audience with a shareable piece of content. These infographics are often quick and easy to create, without the need for the same production costs as a video. Here's a great example:
Video infographics are fantastic for getting information across to customers about complicated topics in a simple and engaging format.
Product or Service Videos
Product and service videos show your audience exactly what they're getting from their company. A good video can be more emotionally engaging and eye-catching than a simple product picture. This video from Man Crates is a good example of how you can use product and service videos to convey information about brand values too.
Product and service videos are also great at introducing new products and getting customers excited about them.
How-To Videos
How-to videos collect some of the most attention from any content category on YouTube, according to Google. They're a useful way to show customers how to use aspects of your service or product, so everyone can get the most out of what you offer.
How-to videos are fantastic for guiding your customers through your offering in a way which helps to answer questions and reduce the pressure on your service team. They're also wonderful for showing off some of your best features. Here's a great example from Monday:
Emotive Videos
When using video and motion graphics in marketing, one of the most impressive forms of video will always be emotional content. Emotive videos are designed to appeal to customers on an emotional level, strengthening connections with your brands and building affinity.
Consumers today place a higher premium on companies that share their values and connect with them on a human level. An emotional video or infographic can show your customers you understand them. Here's a great example from Dove:
Homepage Videos
Home page videos come in a variety of different formats, including explainer videos and how-to's. The main purpose of these videos is to introduce your company and convince customers they should learn more about you. According to one report, including a video on a landing page or home page can increase your conversions by 80%.
Including a video on your home page is a fantastic way to provide lots of useful information about your business, without overwhelming your customer with text as soon as they arrive on your site.
Social Media Videos
Probably one of the most common video marketing examples in the current landscape, short-form social media videos are a fast-paced and attractive way to connect with your audience. Short videos and motion graphics on social media make it easy to connect with your target audience through rich content which grabs their attention on the news feed.
The key to succeeding with social media videos is knowing how to format your content for each channel. 85% of the videos posted on Facebook are consumed without sound, so captions and easy-to-understand content are crucial.
Video Marketing Examples: Video and Animations
As video and dynamic content grow increasingly popular in the digital world, there are plenty of examples of excellent motion graphics in marketing.
Nespresso
A 30-second animated ad released in 2017 to promote the limited-edition ice blends from Nespresso, the Nespresso on Ice campaign is perfect for capturing customer attention with attractive, summery vibes. The sound effects and color options are the perfect combination.
With this simple and effective motion graphics video, Nespresso immediately makes an emotional connection with its target audience, while improving its brand image.
NYP
The NYP group took a truly unique approach to a commonly discussed topic with the "Unmasking a killer" video. This video, created in collaboration with Noma Bar, changed the way medical advances are explained to audiences. The clip, lasting 110 seconds, visually portrays an engaging series of animation which highlights aspects of immunotherapy in a memorable format. The uncomplicated animation style and the succinct voiceover makes explaining a complex topic seem simpler.
Slack
One of the world's leading communication and collaboration tools, Slack has a strong reputation for transforming the world of work. The company uses a colorful, bubbly, and eye-catching explainer video to help people understand how the system works.
The motion graphics in this video are attractive and modern, with geometric shapes in a range of shades. The image of the various shapes coming together creates an idea of collaboration, and organization amongst chaos.
The video is light, engaging, and great for explaining what Slack can do.
Spotify
Like Slack, Spotify embraces the power of motion graphics in marketing and video to explain a more complex technical idea to its audience. The streaming service uses effervescent and lively content combined with retro characters and designs to really connect with their target audience.
The seamlessly integrated Spotify music sessions, animations, and video elements tell people everything they need to know about what makes Spotify unique.
The lively nature of this video shows customers what to expect from an interaction with the Spotify brand. You don't just see what the company can offer, you see how Spotify delivers fun and exciting experiences too.
Sonos
A brand specializing in wireless streaming speakers, Sonos is best-known for its innovative and inter-connected devices. To promote the naturally collaborative nature of their speakers, Sonos embraced the benefits of video marketing.
Through animation, we can see waves radiating from the speakers to fill a home with sound and joy. There's a clean sense of fluidity and innovation in this black and white video design, helping to highlight the modernity of the technology company.
The edgy, minimalistic, and sleek components of the Sonos video help to set the brand apart as a pioneer in its field.
Unlock The Benefits of Video Marketing And Motion Graphics
Video and motion graphics transform the way companies connect with their customers. There's a huge difference between what we think and feel when we see a company at an event handing out business cards, and we see one with a huge screen showcasing animated content.
Well-crafted motion graphics and videos in both the offline and online world immediately capture the attention of your audience, as well as making your business more memorable. 94% of companies say that video helps to increase their customer's understanding of a product or service, while 81% say it has a direct and positive impact on sales.
Through engaging animated content, companies can make emotional connections with their target audience, drive higher sales numbers, and even transform customers into advocates capable of sharing their content around the web.