With millennials now taking over the workforce and the consumer landscape, it's time businesses learned how to speak their language. This community of digital nomads are 2x more likely to discover products by searching online and they expect to be able to interact with your brand on mobile to social media and everything in between.
Your millennial audience also responds differently to promotional content – they're looking for reviews and authentic insights, rather than old-fashioned salesy marketing campaigns.
Millennial buyers, with a buying power of around $600 billion in the US per year, are tech-savvy, emotionally-driven, and brimming with buying power.
Do you have what it takes to engage and convert this new audience? Have you adjusted your B2B marketing strategy for millennials?
Who Are Millennial B2B Buyers And How Are They Different?
Millennials took over as the largest consumer group in 2019.
Defined as the first digital natives, millennials were the first group of consumers to change how vendors needed to market and sell their products. Millennials aren't speaking to sales reps or browsing shelves like their parents. Instead, they're shopping online, using mobiles, and experimenting with new tech on a regular basis.
Millennials were born between the early 1980s and mid-1990s. While they aren't the youngest age group anymore, they're one of the most influential. Many millennials are also helping to shape the future of purchasing, by raising Generation Z.
Here are some quick facts about millennials:
Millennials spend an average of 7.2 hours on the web each day. On average, around 74% of millennials buy products online at least once a month. Many purchase online subscription services or sign up for recurring payments.
83% of millennials find online content useful when making purchasing decisions. They're more likely to find products when searching online, and they rarely use industry analytics to guide their choices. Rather, 40% of millennials refer to online reviews instead.
Millennials are also more likely to shop and make purchases based on emotion. Around 96% of millennials admit to making impulse purchases at least once per month.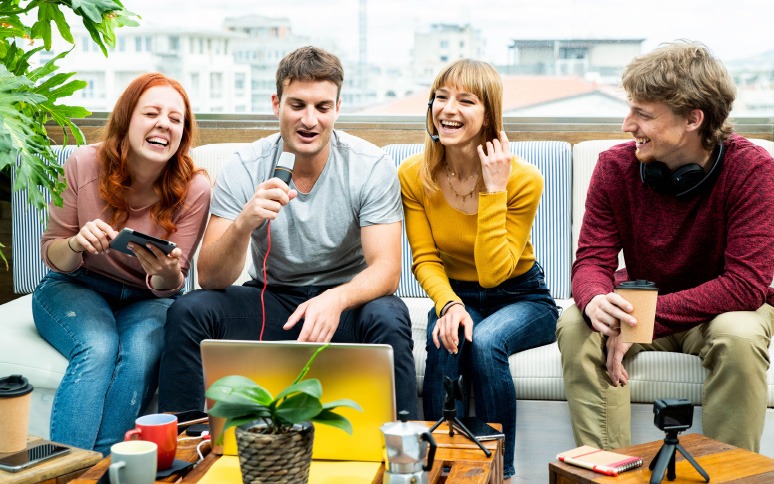 How Are Millennials Changing The B2B Buying Process?
Around 87% of B2B tech buyers in the millennial generation say they want to be able to craft their own buying journey. This means customers want to research products and make purchasing decisions on their own – without speaking to a rep.
Millennial B2B buyers find products online.

Most millennials start their search for a product online, through a digital search engine, on social media. They immediately bypass salespeople and expect to make their own decisions about products based on the information they can find.

Millennial B2B buyers believe in reviews.

Millennial buyers aren't interested in bold claims from companies. These shoppers want recommendations, reviews, and testimonials from similar consumers they can relate to. This makes social proof a must-have for better branding.

Millennial B2B buyers prefer short bursts of information.

Often in a hurry, millennial B2B buyers prefer short bursts of information, often in the form of video or images. They can get this information anywhere, from emails and social media channels, to on video streaming sites.

Millennial B2B buyers know what they want.

Your millennial B2B buyers know what they want long before a salesperson enters the equation. They make their decisions based on a selection of information found around the web.

Millennial B2B buyers interact with companies.

While millennials don't always believe in standard sales pitches, they're willing to interact with brands in various environments. 66% follow companies on Twitter, and 64% follow company brands on Facebook.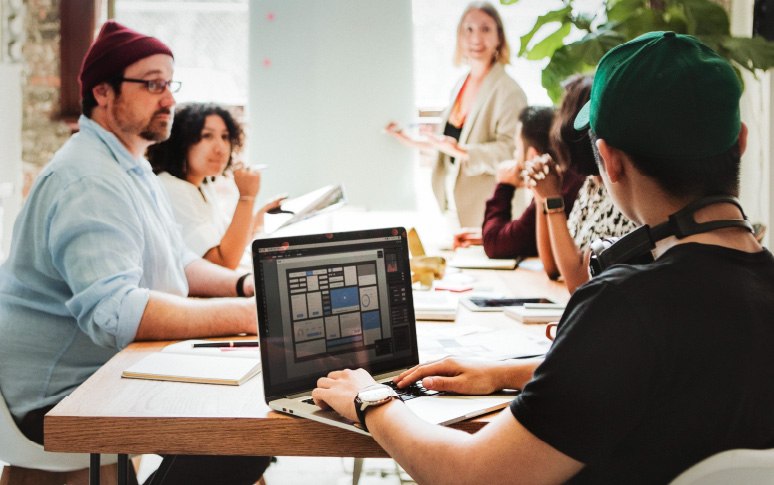 How Can You Adapt Your Sales Process To Support The Discovery, Evaluation, And Decision-Making Of Millennials?
If you want to excel with Millennials and B2B selling, you need a strategy for meeting customer expectations in a digital world. It's not enough to have a handful of sales professionals reaching out to your clients on a regular basis. You'll need to:
Leverage the CRM:

Millennials want personalized solutions which respond to their individual needs. Digital natives expect salespeople to understand their unique requirements and pain points. Often, this means using a CRM (Customer Relationship Management) software, to track the client journey, and their expectations.

Create content:

Rather than serving all of your marketing efforts to your potential customer with a sales pitch, you'll need to invest more time into making sure buyers have the right information available to them during their own search processes. Create blog posts, videos, and content to highlight the features and benefits of your services.

Understand the buyer journey:

Digital natives interact with companies through a host of different landscapes. Knowing how your customer interacts with your brand (through blogs, smartphone apps, social media posts) will ensure you can meet your client at every touch point. Use tools to capture and understand the buyer journey.

Use account-based selling:

Modern consumers don't want to feel like another number on your sales sheet. Your clients want customized experiences designed for them. Account-based selling allows companies to build highly focused strategies according to the knowledge they have about a specific business.

Empower your team:

As the consumer landscape continues to evolve drastically with time, weekly sales meetings and performance reviews aren't enough to enhance team performance. Business leaders need to be ready to empower the team with regular meetings and guidance. Collaborate to come up with new strategies on how to serve different buyer personas or move into new niche environments.

Enhance your brand:

Millennials, and the Gen Z buyers who follow them, are looking to buy from companies they relate to. The only way to build this emotional connection with a consumer is to develop a brand. Design an image for your company that can influence the way your clients think and feel about you. This will create a foundation of trust crucial to long-term relationships.
Millennials and B2B Brand Design
One of the most important parts of B2B marketing for millennials, involves building the right brand image for your new customers. If you want to connect with the millennial generation, you need to understand their preferences and tastes and take the following actions:
Update Your Color Palette
Corporate blue and black-and-white branding designs are a thing of the past. Corporate colors used to be the most common choice for B2B brands hoping to showcase expertise and authority. Now, millennials are looking for unique, authentic imagery among brands.
Zendesk used to rely heavily on basic black, white, and grey color schemes, with a splash of green from time to time. Now, the website features deep forest greens, soft peach shades, and the occasional brighter hue.
Don't just go for the "tried and tested" colors when building your brand image. Explore unique shades and organic colors which highlight your personality.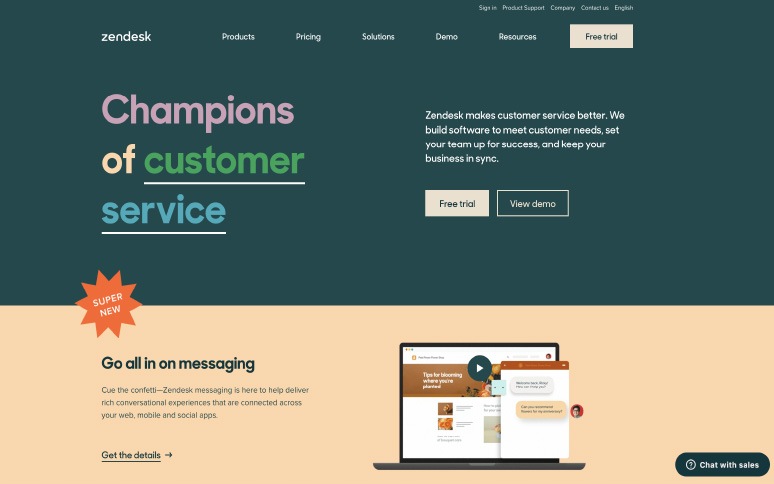 Experiment With Graphics
Using photos to market to millennials can be extremely effective. There are plenty of reports out there highlighting the Millennial generation's love of visuals in marketing and branding.
It's not just the crisp, professional graphics and vectors your customers are looking for anymore. Today's millennial buyers are searching for imagery which shows the human side of a brand. This means using more illustration and imperfect, hand-drawn designs.
Slack uses a combination of human images and illustrations to show off their authentic side. The unique images, combined with brand colors, helps to separate Slack from other similar solutions reliant on stock images.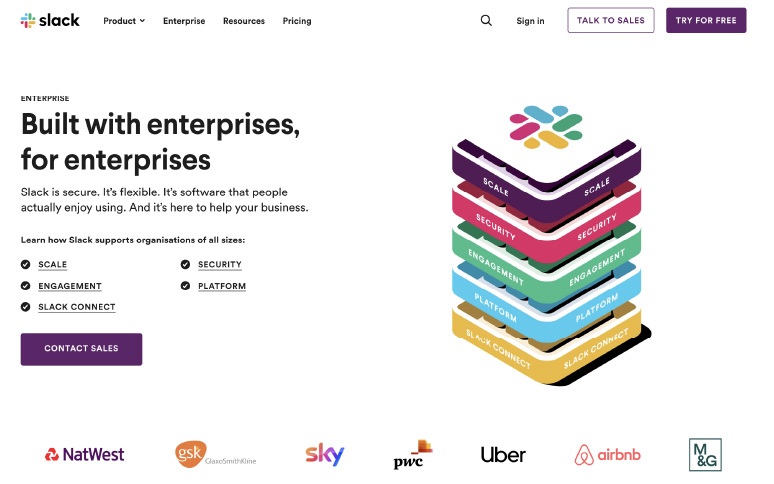 Sans-Serif Type
You may have already noticed examples of companies switching from a serif to sans-serif font over the last few years. Just look at Google's logo.
The decision to switch to a more friendly and engaging sans-serif font – even among B2B companies, helps to make the brand feel more accessible. Like many of the branding changes implemented for millennials and B2B selling, sans-serif type gives a sense of modernity to a business, while eliminating some of the stuffy, "old-fashioned" connotations of serif fonts.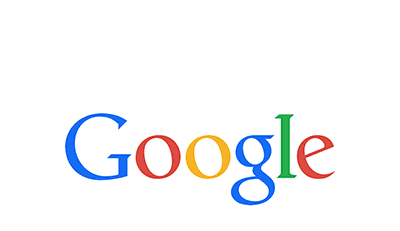 Motion
Technology has evolved at an incredible pace in the last few years. In the past, having a website full of animations would slow your site to the point of freezing. Now, you can implement animations in everything from your blog posts to email campaigns, and still grab audience attention.
Companies like Apple use animation as a quick and simple way to highlight the value of their products, and the unique features they can offer. Animations are an excellent way to bring more context to content, while grabbing customer attention. The key to success with animation is choosing visuals which simultaneously highlight your brand personality and deliver useful information.
Minimalism
Millennials want their brands to be simple, straightforward, and easy to understand. This fast-paced generation doesn't want to have to struggle to figure out what a company is all about. In an environment where most of your customers are discovering your company on a smartphone screen, they need your branding to be simple and clean.
Minimalism is a common trend in all parts of the branding journey today. From straightforward websites that are easy to navigate (on any device), to pared down logo designs. When designing your brand for millennial B2B buyers, remove anything that doesn't offer obvious value.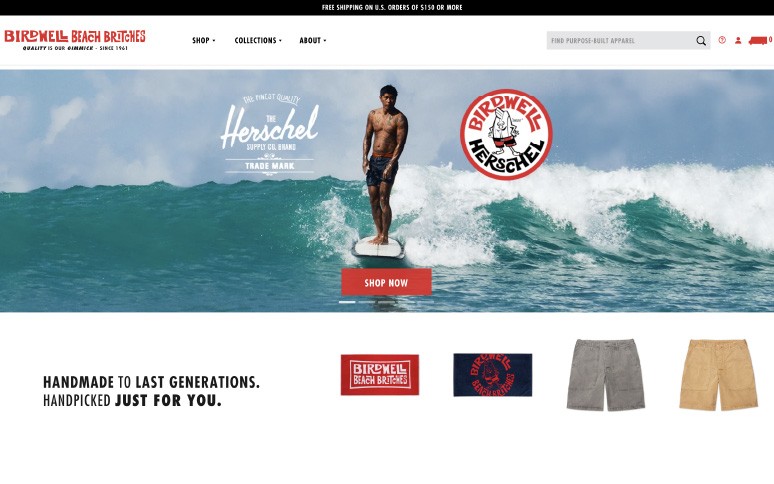 7 Ways Brands Can Win Over Millennial B2B Buyers
Today's millennial customers aren't just the most influential group in the marketplace – they're also the people leading the way for the future of Gen Z purchasing trends. Learning how to win over millennial buyers will help you to prepare for the next age of digital nomads.
Experiment With Emerging Media
Today's digital buyers use all kinds of online channels to collect information about their potential purchases. Millennials spend a lot of time viewing video on their laptops, streaming services, and smartphones. According to Adobe, 52% of marketing professionals define video as the content with the best ROI.
Experiment with how-to guides to introduce B2B buyers to your products and demonstrate what your items can do. Highlight the features of your products through video or use onboarding video to guide your buyers to success when they buy your products.
Have A Social Presence
Social media isn't just for B2C companies. Around 66% of B2B buyers say they use social media to communicate at work and keep up with industry news.
Social media offers a fast-paced environment where you can highlight the growth of your company and demonstrate your knowledge of your niche. Sharing curated industry content can indicate thought leadership, while social media marketing campaigns give you a chance to speak to your audience where they already spend a significant amount of time.
Don't be afraid to reach out and connect with B2B buyers on channels like LinkedIn too. LinkedIn groups can be an excellent way to find people with shared values and interests.
Demonstrate Brand Values
Around 73% of millennials say they're willing to pay more for products from companies dedicated to environmental and social change. Modern buyers are looking for companies with authentic values. Showing you care about more than just making money increases your chances of sales.
To ensure you're showing the right values, start by evaluating your customers. What kind of things do their companies stand for? Are they committed to eco-friendly practices and sustainable resources? If so, they'll probably want to buy from other companies that share the same views.
Demonstrate your brand values through content marketing (blogs and articles), as well as by taking part in events where you can highlight your efforts. Many leading B2B companies have charitable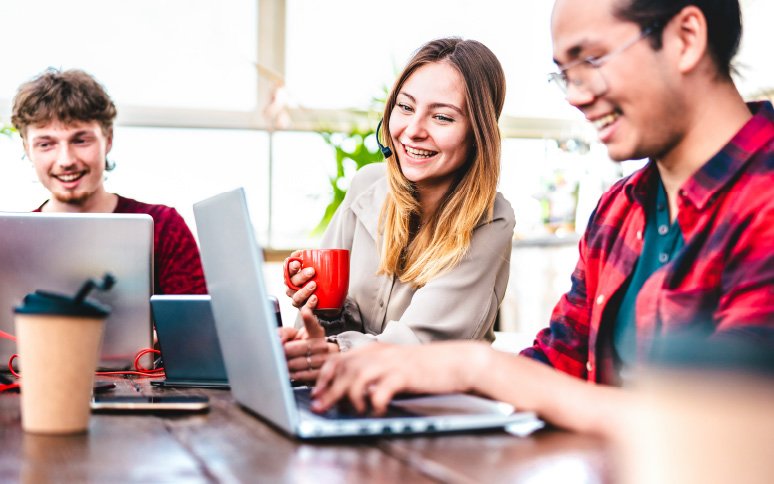 Explore Mobile Channels
Millennials spend up to 3.7 hours per day on their phones. B2B companies should be looking for ways to capture their attention on this platform. This could involve using text, apps, and even podcasts to showcase thought leadership.
Mobile channels offer an excellent way for companies to educate their potential customers with things like product videos, and chat conversations with buyers. You could even set up a strategy which involves using LinkedIn messaging and similar apps to reach out to clients.
Many B2B companies focusing on millennials also create apps to help organizations interact with them more often. An app might be a place where your customer can check their loyalty points or examine information from a piece of software.
Host Events
One of the biggest characteristics defining millennials today is a love for experience. In 2018, Millennials kick-started the experience economy, showcasing a demand for memorable moments, rather than specific products or physical possessions. If you can host an event to get your audience excited about your brand, you're more likely to retain their attention.
B2B companies can create all kinds of events to connect with their customers. Exhibitions and tradeshows are excellent opportunities to show off products in action and connect with potential collaborators. Even if you can't host a physical event due to various restrictions, you can still enjoy online events, like B2B virtual conferences.
Work With Influencers
B2B buyers in the modern landscape are looking for connections with people they can trust. If your business still isn't particularly well-known, it helps to work with someone who already has the loyalty of your intended audience. Influencer marketing can be a great opportunity.
Influencers work with companies to highlight their unique personality and voice, often helping with things like social media marketing and content production. To find the right influencer, you'll need to search through well-known figures in your industry. Choose someone who has a similar voice to your company, so you can work naturally together.
Listen To Your Customers
If you really want to succeed in B2B marketing for millennials, listen to your customers. Your clients are more active online than ever before. This also means they're constantly leaving messages on various forums and industry websites, writing reviews, and commenting on social media.
Taking the time to listen to your audience wherever they are gives you an insight into how they view your brand. More importantly, it's a chance to understand what customers like and dislike about you.
Using things like social media listening tools and online analytics, you can get a good idea of what people are looking for in your industry, and what things you might need to change about your marketing strategies. It's also worth collecting information from conversations salespeople have with clients. This will show you the kind of questions customers ask before buying, and the hurdles that might stop them from making a purchase.
Master Your Millennial Marketing
The age of the digital nomads has arrived, and millennials are everywhere. Updating your marketing and branding strategies with a focus on listening to your customers, building an authentic image, and driving unique experiences is crucial.
Your audience is looking to build relationships with companies they can trust – brands with a genuine voice, a strong set of brand values, and a deeper knowledge of the digital landscape. Fail to adapt to the new age of millennial marketing, and you risk losing not only this audience, but the new community of Gen Z buyers that will come after them.
Are your marketing and branding efforts ready for the millennial age?