Marketing and promotion have changed a great deal in recent years. Over the past decade, customers have evolved, demanding more meaningful, emotional, and personalised experiences.
To address these needs, the demand for content has begun to skyrocket. Specifically, relatable, visual content is on the rise. Around 70% of consumers now say that marketing messages are more effective when they include visual content.
The key to success in this new visually-driven environment, is accessing a team capable of producing and pushing the best content consistently. Many leading companies are going increasingly in-house with their solutions. Apple's in-house design team has doubled. Capital One acquired their own UX and design firm. Many other companies shifted their focus in-house in search of more reliable results.
In every industry, the race is on to build an in-house creative team capable of pivoting to the changing needs of customers. The best team needs to present a broad, united front across an ever-growing number of media channels. Is it time to transform your team?
Why Are In-House Creative Teams Important?
Deciding to build an internal design team for your creative assets can be a significant challenge.
Many companies have spent years "making do" with their creative content or using the occasional contractor when a specific skill became essential.
The influx of new, visual marketing tools, from social media posts on TikTok and Instagram, to infographics on Pinterest and graphic eBooks means the need for design is now a constant pressure on competitive teams. In house creative teams have become essential because:
Content creation takes time:

Many companies don't realize just how long creative content takes until they find themselves falling behind their competition without access to the right assets. There's more to running an image-based social campaign or email marketing effort than throwing a few ideas together last minute. The right strategy requires skill, time, and focus delivered on a consistent basis.

Consistency is crucial:

Every creative asset designed for your brand needs to deliver the same personality and tone. The more consistent your brand image and identity is, the better you'll be at strengthening connections with your target audience. With an in-house design team, your specialists learn everything there is to know about your brand and use specific guidelines for every asset. There's no need to repeat the same.

They reduce costs:

Although it might seem expensive to have your own in-house creative team on-hand at first, the reality is it can save you a lot of time and money. You'll always have a specialist available to create your content whenever you need it, which means you can immediately jump between projects without having to waste valuable moments of interaction with your audience.

Consistent reporting and analytics:

While you can get reports and metrics from a contractor or agency, you'll be able to get a much more consistent view of your projects and their success levels when you build an in-house creative team. You can equip your professionals with a set of fantastic tools for tracking things like engagement and customer satisfaction, and you don't have to worry about gaps in your analysis when moving from one design provider to another. The more consistent your reports, the more likely you are to notice trends.

Peace of mind:

A creative team isn't just there to help promote your company – it can also be a crucial investment when protecting your brand's reputation. Your creative team will be able to step in and design solutions to make your business stand out from the crowd. They can give you attention during times when your competitors might be stealing the spotlight or help you to repair customer loyalty after a PR disaster.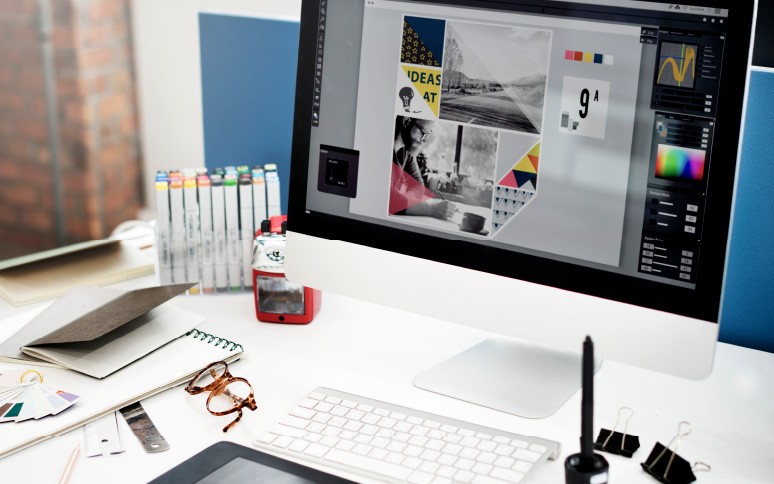 Skills to Look for When You Build an In-House Creative Team
The exact skills any company needs to access when they build an internal design team will depend on various factors. Some companies prefer to create more video content and training solutions than images or eBooks. Other organizations may have a higher investment in webinars, eBooks, and even online event creative.
Some of the most significant skills you'll need to look for in any creative team include:
Design Software Abilities
The first thing your designers need to know is how to use the software essential to building the kind of content you want. Most graphic designers will be comfortable with things like Photoshop which is great for building websites.
Illustrator may be an essential tool if you're making a lot of videos, while InVision is ideal for UX design. It'll be tough to find a designer who knows how to use every tool, but you should be able to build an internal design team with all the software knowledge you need with a little research.
Design and Ideation
Design and ideation skills are an obvious must-have when you build an internal design team. Whether your creative professionals are working on digital design, print jobs, photo editing jobs or something else entirely, they should know basic graphic design principles. Talents to look for include alignment, balance, and hierarchy.
Ideation skills are another must-have. Designers need to be able to not only follow instructions but come up with new concepts and ideas based on what they know about your brand. Once an idea is established, your design team should also have the confidence and communication skills to introduce the concept to their colleagues.
Communication
Communication skills are a must-have for any member of a successful team. It's the only way to ensure you get meaningful results from your projects according to your required deadlines. Every graphic designer needs to know how to translate their requests and visions into language other members of staff can fully understand.
Your design professionals also need to be able to communicate well with other artists, even if they specialize in different things. A graphic designer needs to be able to communicate with content creators about the layout of a blog or eBook. Video creators should be able to talk to animation artists about individual video segments. The better the communication between every member of your team, the faster you'll achieve amazing results with your projects.
Creativity and Problem Solving
Creativity and problem solving are two skills often connected when you build an in-house design team. Coming up with solutions to complex issues, like how to explain a complex feature of your product to your audience, or how to differentiate your business from the competition requires creativity. When you build an internal design team, look for evidence of both creativity, and the ability to think outside of the box when addressing problems.
Unique ideas and concepts are great insights into what your team might be able to accomplish, but make sure you ask them about the challenges they've faced in the past and how they've overcome them too. This should ensure you hire a team capable of responding to sudden changes in trends and customer expectations.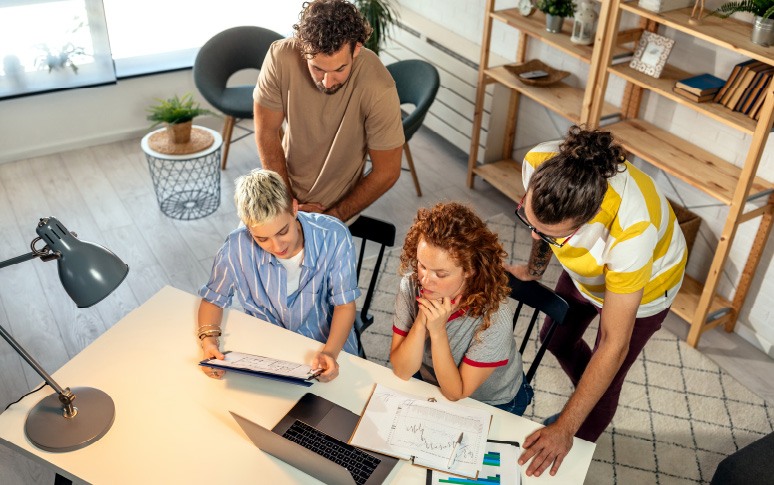 Team Work and Time Management
Members of an internal design and creative team should be able to work perfectly as a team. While this might seem obvious, it's becoming easier for design teams to end up being disjointed and siloed in today's landscape. Having an in-house design team means your professionals work specifically for your business – but they could be operating remotely, from different parts of the world.
As the workplace becomes more distributed, ensure everyone working with your business can operate in alignment. Even when working remotely, your staff should be able to manage time by ensuring they operate using things like shared calendars and scheduling tools.
How to Work with Your In-House Team
Finding the right people when you build an in-house creative team is only the first step towards success. You also need to know how to assemble and leverage your professionals correctly. The best teams require consistent nurturing and support to deliver amazing results.
To make the most of your team:
Step 1: Identify Your Needs
The first step in properly leveraging your in-house design team is figuring out what you need. You should take some time before you begin hiring to think about the kind of content you want to create, to help you seek out appropriate skills. Once you have a general idea, sit down with your creative professionals, and ask for their input.
Your specialists can offer unique insights into how to use certain kinds of content properly.
Currently, 60% of businesses are using video as a marketing tool today, but only a handful are leveraging trends like 360-degree video, live content, and streaming. A great content creator can offer ideas on how to differentiate your brand with these new assets.
Give your designers suggestions and request specific kinds of content based on your pre-defined needs but allow them some autonomy too.
Take advantage of the unique perspectives they bring to the table.
Step 2: Give Your Team Brand Guidelines
While it's important for design teams to have some freedom, they still need direction. As mentioned above, one of the biggest benefits of building an internal design team is you get to create a consistent image and personality for your brand. To ensure you make the right impact, provide your designers with a series of documents to help them.
A set of clear brand guidelines will be the most important initial document you'll need to create. These guidelines should include:
Your brand colors
Requests about which images and photo styles to use
Brand tone of voice and personality
Brand logos and pre-created assets
Brand shapes
Fonts and typography choices
When your internal team are still building their understanding of your business, they may also benefit from access to a list of examples of competing content and designs you feel aren't representative of your brand. This will give your team more information on the kind of content they should stay away from. Add to your guidelines as your business evolves.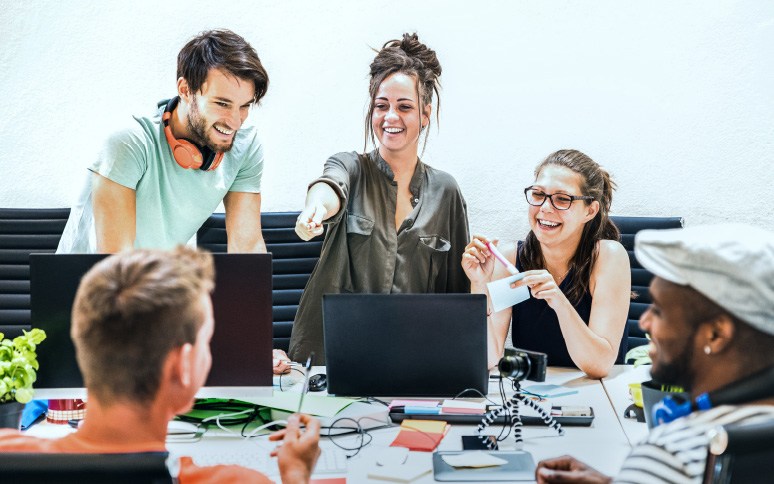 Step 3: Establish Conditions for Creativity
This is a battle most companies need to fight regardless of whether they want to build an internal design team or not. Establishing the right "conditions for creativity" in your business is another way to describe building your company culture.
The workplace culture embraced by your brand reflects the values you have as a business, the expectations you'll have of your team, and even your employer brand. A company keen to encourage creativity might create a company culture where everyone has frequent opportunities to suggest new design assets for the team to create.
A creative company culture would also support out-of-the-box thinking and avoid labelling any idea as "bad" during innovation and brainstorming sessions.
Step 4: Invest in Your Team
If you hire the right creative team, your employees will have a lot of useful skills to offer from day one. As the digital landscape and creative tools companies use continue to evolve, it's important to ensure your professionals stay on the cutting edge of their niche.
Support your design team's thirst for knowledge by providing them with as many opportunities and learning tools as possible. This could mean signing your team members up for online courses, where they can learn how to use new software, or giving them access to training solutions like LinkedIn learning.
Some designers benefit from attending workshops and environments where they can network with other employees and build their design skills with new perspectives. These training and development initiatives will both give your team access to the latest skills, while ensuring your colleagues can bond.
Step 5: Provide the Right Tools
Investing in the creative future of your business begins with choosing the right members for your in-house team. Once you've established a group of specialists who can deliver the assets you need, it's important to ensure everyone in your team has access to the tools they need to thrive. Some of the most essential resources to access for your employees include:
Hardware:

Start with a computer with the capacity to run all of the necessary design programs your teams will be using. Many leading software solutions like Photoshop will require a significant amount of memory. Make sure you don't cut corners by purchasing a lacklustre computer. The faster and more efficient the hardware, the quicker your team will be able to deliver results. Some of your employees will also need access to things like color printers for producing mock-ups and scanners for uploading assets.

Software subscriptions:

Ensure your team members have access to all the software they need to not just create but collaborate with your team. Adobe Photoshop, Illustrator, and animation software solutions are a good place to start. It's also worth looking into things like Slack and Microsoft Teams to help remote members of staff work more efficiently together. You can invest in cloud storage solutions for saving versions of assets, and screen-sharing tools to empower your teams.

Other supplies:

Some of your team members may need digital drawing surfaces where they can sketch ideas to upload into the internet. Others will need things like sketch pads and pencils where they can experiment with ideas before using extensive software. If you're not completely sure what kind of tools your employees need, ask them.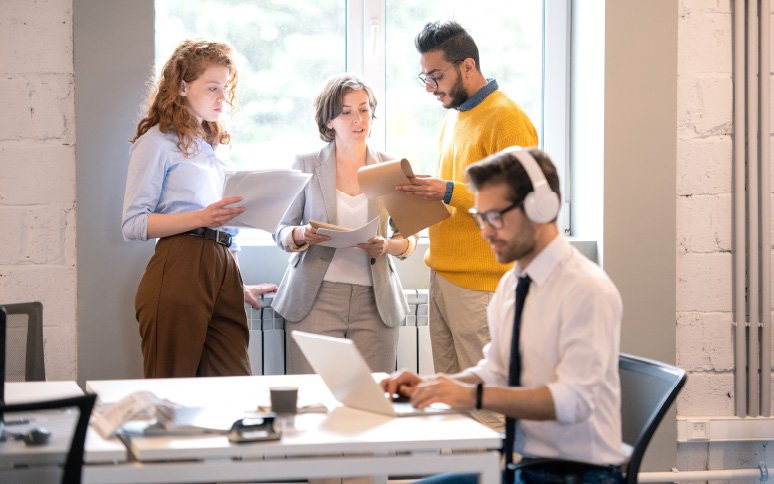 Step 6: Create a Feedback Loop
Feedback loops are a fantastic tool in ensuring your team members continue to deliver the results you need over time. You should have a reliable way of giving your team praise when they produce amazing work, to keep staff motivated. When a project doesn't go according to plan, arrange time to sit down with your staff and discuss what you can do to avoid problems in the future.
Consistent feedback ensures your design team knows which efforts are more likely to lead to positive outcomes. Aside from making sure you and your supervisors give feedback to your design professionals, ensure they have the ability to share their insights with you too.
Your designers can give you a lot of helpful information in the form of reports, showing the success of your recent creative campaigns, and professional advice. You can even ask your team members about the people they work with and the tools they use, to see if they have any idea how to become more efficient.
Design the Perfect In-House Design Team
Creative assets are at the heart of any marketing strategy today. These designs fuel your social media marketing campaigns, email nurturing efforts, and website traffic.
As customers continue to look for visuals to determine which companies they can truly trust, design can no longer be an ad-hoc investment.

Companies need fully committed in-house design teams to thrive.

In this world of increasing competition, companies need to rethink the role of creative teams in their company. Silo-busting processes capable of bringing creative staff together in a strategy that promotes better sales campaigns, stronger marketing, and even better customer service experiences can give your company the power it needs to stand out.