Content is key to earning the loyalty of your target audience – but not just any content will do. In a world of information overload, where about 7.5 million blog posts are published every day, companies need something special to grab attention. Your brand needs the right visuals.
Design-led content marketing weaves meaningful, eye-catching components into every aspect of your company's identity. The right visuals make it easier for you to earn the attention of your audience, while also ensuring customers will remember your brand.
People retain around 65% of information for 3 days when it's paired with an image. That number drops to only 10% when messages are delivered through audio or text only.
Studies highlight the value of visuals, revealing that design elements like color and graphics allow people to recall information for longer, and build better relationships with brands. One report even found that using consistent design across all your content is one of the best ways for businesses to improve revenue and recognition.
What Is Design-Led Content Marketing?
Design-led content marketing is a method of content management focusing on our human preference for visuals.
In today's marketing world, companies use content to inform, educate, and inspire their audience. Content is king for gaining customer loyalty, building thought leadership, and converting customers. Year over year, the average content marketing leader achieves 19.7% growth, compared to only 2.5% growth for those with minimal content production.
Of course, to get the best return on investment from your content marketing, you need to learn how to convey your information to your audience. Increasingly, we're learning that people respond better to visual data than anything else. Just look at the facts:
Design-led content marketing doesn't just add imagery to blogs or articles, it's a strategy which focuses on building your entire content plan from a visual point of view. With design at the heart of your content creation process, you can build brand assets where the text isn't the only thing doing the legwork for your company's reputation.
With a design-led approach, you can even explore new kinds of content, to reach a variety of consumers – not just blog post readers. A design-focused strategy paves the way to infographics, videos, animations, and social media posts.
Design-led content marketing affects every kind of content you produce, from your website product pages, to your landing pages, email campaigns, and social strategy.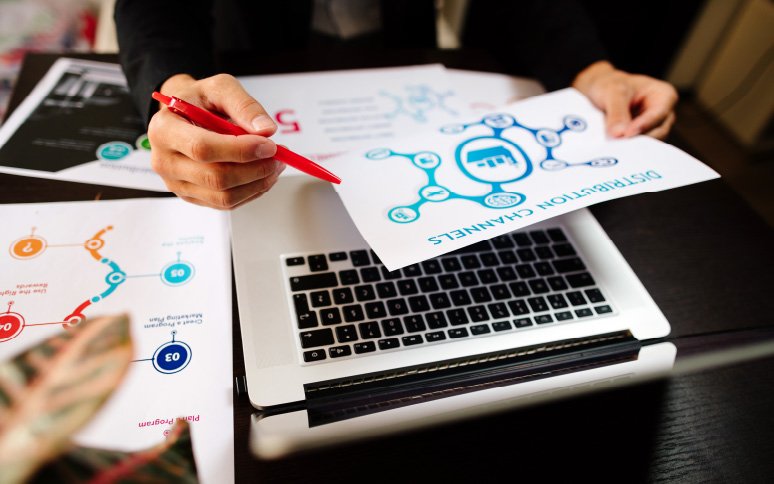 Why Design-Led Content Marketing Matters
People don't have a lot of patience for content without a visual focus. Most of your customers will only read around 20-28% of the words on your page. We quickly lose interest when there's nothing visual to grab our attention – but people are more than happy to invest their time and energy in design-led content.
Around 80% of customers will watch a video, but only 20% will read the text around it. While people generally ignore a large portion of the text they see, we're naturally drawn to visuals. Visual content marketing supports your brand's growth by giving your customers easy-to-absorb information.
Design-led content marketing improves customer experience:

Design isn't just visually appealing – it's practical. Customers visiting your website are more likely to stick around and check out your marketing campaigns and products if your content is well-designed, formatted correctly, and structured in a way that's comfortable to read.

Design-led content marketing enhances understanding:

We learn better when we're presented with visuals. Videos, images, and infographics can add context to an idea, and make it easier for us to absorb information. This is one of the reasons why B2B customers buying complex software and tools generally prefer visual content. 95% say they want visual content when they're researching options and choosing what to buy.

Design-led content marketing improves brand reach:

Content rich in images gets around 94% more views than content without relevant visuals. Just like an attractive picture can grab your attention on the street, the right visuals make you more likely to read content. People are also more likely to share content when it's rich in visuals, which gets your brand in front of new groups.

Design-led content marketing builds engagement:

Posts with images on social media gain around 650% higher engagement levels than text-only posts. People are more likely to respond when they see emotional images, informative videos, and useful infographics. The boost in engagement is even higher among younger generations. Just look at the most popular social channels among younger buyers, from Instagram to TikTok – they're all visual.

Design-led content marketing boosts brand awareness:

With visual content marketing, you can further enhance the image you're trying to build for your brand. Consistent content that matches the image of your business on social media, offline, and even on your website will make you look more credible, authentic, and reliable. The more consistent your image is, the more likely it is that people will remember it, too.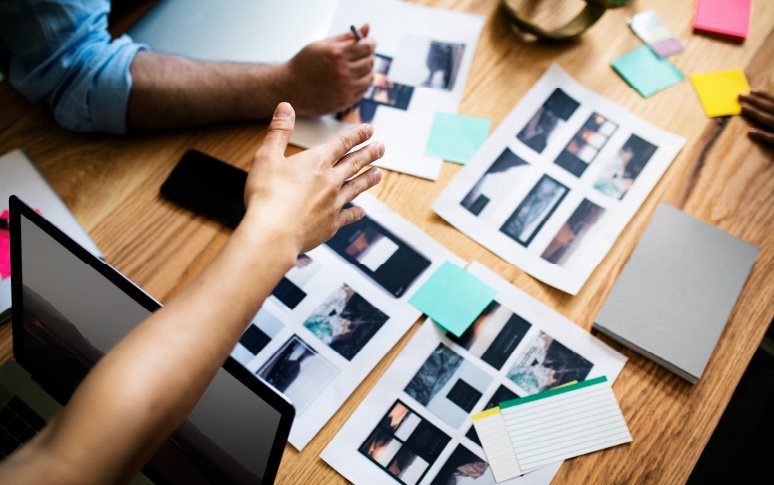 Using Visual Content Marketing To Elevate Your Campaigns
With design-led content marketing, you put the visuals first in your campaigns. When the human brain is pre-wired to automatically respond to images, design should always be at the heart of your marketing strategies. The toughest step for most brands is figuring out how to get started.
These steps will help:
1. Empathize With Your Target Audience
Images speak louder than words. The human brain processes images up to 60,000 times faster than words, and those images don't just improve understanding – they create emotional responses too. When building a design-led content marketing strategy, think about what you want your customers to think and feel when they see your visuals. Ask yourself:
Who is my target audience?

If you don't have a set of user personas yet, now is the time to build one. Different kinds of customers respond better to certain types of visuals. Younger audiences tend to prefer shorter snippets of video, while B2B brands might prefer graphs and infographics.

What is my customer feeling when they encounter this content?

Where will your customer be in the buying cycle when interacting with your visual content marketing? Are they frustrated by a problem in their life? If so, how can you show understanding? Perhaps you could use a video to show people struggling with the same issue?

What kinds of emotions do I want to evoke?

How do you want your customer to feel by the time they leave your content? Should they feel hopeful and informed? Do you want to leave customers with a sense of determination, so they're ready to tackle their problem head-on?
2. Have A Diverse Visual Toolbox
As mentioned above, visuals are naturally more likely to engage your audience than text and audio. Different people will want different kinds of visuals to support them on their buyer journey. Photos are great when you want to provide static information. A photo of a meal from your restaurant tells a client exactly what they can expect to see on their plate if they book a table. The right photo will also generate hunger and desire.
If you want to show off a new clothing collection, a single image won't be enough. Customers will need to see the designs from various angles to visualize what they might look like in their wardrobe. Every type of visual content marketing has its own purpose and specific benefits. Stacking your promotional toolkit with the right assets is crucial to ensure you're prepared for every part of the customer journey. Make sure you consider:
Social media snaps and lifestyle images

to help customers visualize your products

Animations

for fast-paced insights into products and how they work

360-degree photos

and multiple angle shots for product pages

Infographics, graphs, and charts

to showcase information

Videos and short clips

for immersive insights
3. Build A Consistent Brand
While experimenting with various kinds of content is useful, everything you produce needs to have a consistent connection to your brand identity.
Over time, customers will develop a sense of familiarity with your brand when seeing the same colors, logos, and design strategies on a constant basis.
Having a set of design guidelines in place for your visual content marketing will help to ensure you're not confusing your audience with a constantly changing image. Make sure every asset you create has the same:
Set of branded colors (where applicable)
Unique personality (is your content fun and friendly, sophisticated, tech-driven?)
Logos and brand icons
Business photography
Graphics and animations
Whenever you produce a new marketing campaign, look at it in the context of your entire brand image. Does it look like something that would come from your organization? Having a set of strict brand guidelines should ensure that even when you're working with professional designers, your image stays the same.
4. Choose The Right Partner
Producing a design-led content marketing strategy means constantly working on your image, and the visual content you share with the world. It's difficult to accomplish this if you don't have the right talent on-hand. For some, larger companies, it may be possible to hire an entire team of design experts to work on your projects 24/7.
Most organizations will prefer to have access to a more flexible design resource, in the form of an outsourced agency or design team. Outsourcing your design needs to a team means you can leverage the specific skills you need to create animations, videos, illustrations, and more, without having to hire a new professional every time.
You can work with the same set of design professionals for all of your campaigns, to ensure your image stays the same. Working with an agency essentially gives you a full design team, without the unnecessary expense.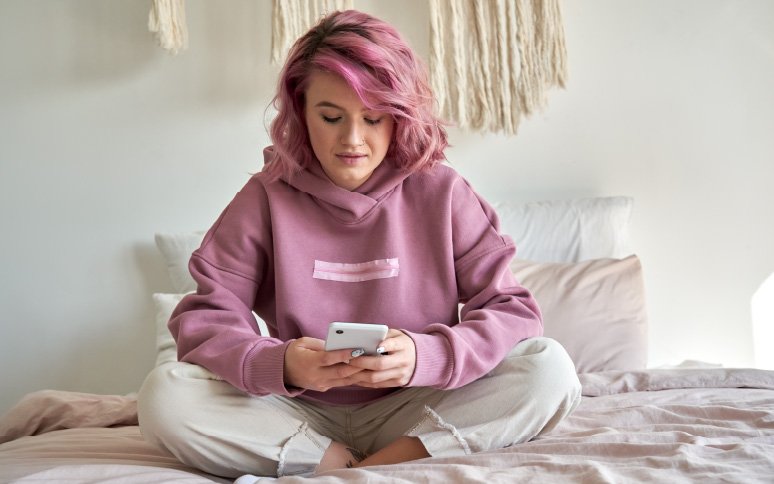 How To Create Visual Content That Makes An Impact
Ultimately, design-led content marketing is the best way to ensure your business stands out in any industry and attracts the right audience. Working with a professional team will immediately improve your chances of leaving a lasting impression on your audience. The following tips should also give your visual strategy a boost.
1. Align Your Brand Story With Your Content Marketing
Visuals are an amazing way to share meaningful stories about your brand. Everything you produce for your company should tell your audience not just about your products and services, but also about your brand. When you look at the images you post on social media, or the videos on your product pages, what do they say about your company?
Look at the Aviation Gin posts from Ryan Reynolds on Instagram, they don't just show off the product, they also give the business a unique personality.
Before you start working on design-led content with your team, ask yourself what kind of voice you're trying to convey, and what sort of values you want your customers to see in your company. Everything from your brand mission to your unique personality should show through in the content you create. Don't just tell people about your company – show them.
2. Follow The Rules Of Good Design
This is where working with a professional design team comes in handy. Following the rules of good design is essential to not only sending the right message to your audience, but also improving the reputation of your brand. Some of the most common rules include:
Maintaining color consistency:

Remember to keep your image assets in line with your branding. Stick to a consistent color palette and avoid using too many different shades in one image – as this can often overwhelm the viewer.

Give images room to breathe:

Make sure there's plenty of white space between your visuals so it's easy for customers to consume all the information you have to offer. Don't just pile as many pictures as you can in one place.

Use the right image and video files:

Make sure you're uploading image and video files in a way that allows your website to load as quickly as possible. This should prevent customers from getting frustrated and leading your page.
Crisp, clean visuals are excellent for grabbing your audience's attention and making the right impression. Working with a design expert should mean your assets always make a positive impact.
3. Get Emotional
Tapping into the power of emotion is much easier with visuals.
It's far more meaningful to see a video about someone struggling with their business software, than it is to read about someone having the same issue. Since most customers in the B2B and B2C world make their purchasing decisions based on emotions, it's important that you know how to leverage the impactful benefits of your visuals.
Videos are one of the best ways to generate emotions, as they're great at telling a story. You could make a video showing your audience you understand their issues, by depicting a character going through similar problems to the ones they face every day.
An emotional design will engage your audience, and boost your chances of virality, by encouraging people to share what they see.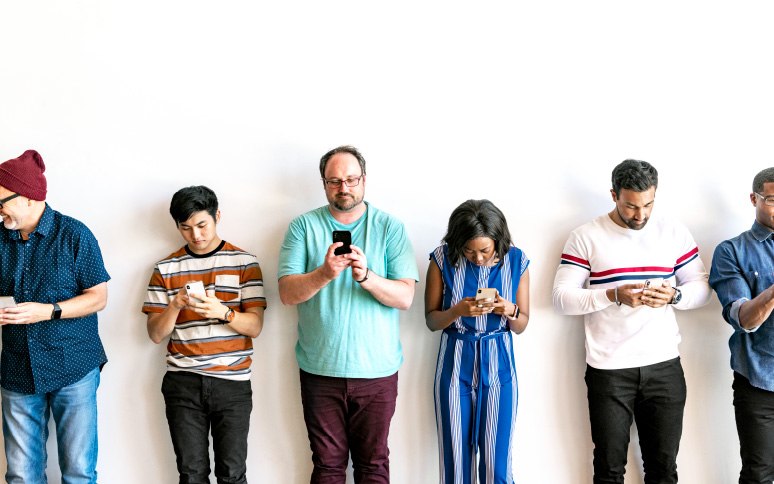 4. Stay Away From Stock Images
Unique visuals will always have a bigger impact on your audience than stock photos and dime-a-dozen graphics. If customers have already seen the photos you're using in your content on a million other websites, they're not going to connect with those images emotionally. Companies using stock images are more likely to seem inauthentic, cheap, or unprofessional.
Creating content from scratch with the right designer is the only way to produce pieces that really say something about your brand. Generic images make your business look generic, and drive customers to search for other, more innovative brands.
Work with a designer, photographer, and other creatives to design content that conveys your unique personality. Creating content from scratch also means you can design your assets specifically to suit certain platforms (like social media posts, or email marketing campaigns).
5. Make The Most Of Your Existing Assets
Just because you shouldn't re-use stock images in your visual content marketing, doesn't mean you can't leverage the assets you already have. Your blog posts, articles and videos can be an excellent source of inspiration for visuals. Countless companies enhance their content schedules by transforming blogs into visual eBooks, and guides into how-to videos.
Look at the content on your website and social channels that already grabs customer attention and think about how you can reformat it into a more visual package. You could even pull single screens from your videos and post them on social media to generate conversations about your latest vlog.
Another option is to go beyond your available content, and leverage pieces from your customers. User-generated content can give you more exciting photos and visuals to share if you're running out of ideas, and it's a great way to show your audience you're listening to them.
Design-Led Content Is The Future
According to analysts like Forrester, design-led content helps brands to create more unique customer experiences. More importantly, a focus on design also builds emotional connections with your customers, strengthening your ability to convert clients into brand advocates.
Human beings are naturally visual creatures, capable of absorbing and appreciating visual content at speed. Yet countless companies still aren't taking full advantage of the visual landscape. To thrive in this digital world, you need:
A strong set of brand guidelines
An understanding of your audience (and how they consume content)
The right partner to create your design assets
Consistent commitment to expanding your visual portfolio
Working with a visual design team is an excellent way to speak to your customers in their language, while simultaneously expanding your brand reach. Produce the right pieces of visual content, and you don't just improve your chances of getting your message across, you inspire your audience to share that content with friends and boost your brand reach.
The demand for visuals will only continue to grow as customers search for faster, more convenient ways to consume information. If you don't have a visual strategy yet, it's time to start designing.