A well-designed brand forms the foundations of your relationship with your audience. Through design, tone of voice, and carefully planned marketing, you tell your customers who you are, what you stand for, and why you're better than the competition.
After a while of building your brand, you may begin to veer away from the central pillars of your identity. Responding to changes in the marketplace, working with new team members and trying out different advertising options can all influence the consistency of your brand. When this happens, the crucial message you're sending customers about your company becomes fragmented and unreliable.
A brand visual audit is your opportunity to ensure your brand image remains consistent, engaging, and relevant, no matter how much your business grows. Conducting regular audits reduces your risk of an inconsistent, disjointed brand identity, so you can form stronger relationships with customers.
What is a Visual Design Audit?
A visual design audit, or brand visual audit, is an analysis of the various visual elements making up your brand. Most audits will include a consideration of various factors, including your logo, website design, brand colors, and even brand photography. Some of the points you'll consider during this analytical process include:
Business and User Objectives
A design audit looks at whether you're achieving the goals you set for your brand when designing your visuals. Are you attracting the right audience, and gaining more conversions? Have you earned an identity as a leader in your niche?
Conversion Metrics
During your audit, you'll look at the metrics associated with your visual assets, such as bounce rate (how often people abandon your website after landing there), and brand recognition (how many people are talking about you online.)
Usability
Design needs to be both meaningful and practical. Your website shouldn't just be attractive, it should also be easy to use, and convenient for your audience. Checking user experience is a crucial part of a design audit checklist.
User Persona Assessments
You may need to re-assess your user personas and what you know about your audience, to determine whether design changes are necessary.
Branding Evaluation
An audit is a healthy activity to understand if the branding is positively influencing users.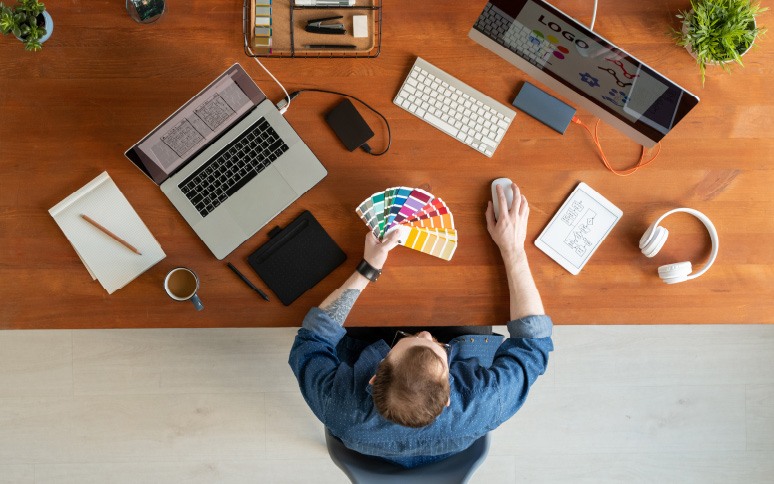 The complete design audit checklist you use to manage your evaluation will differ depending on your company, and the visual assets you have. The standard template will include:
Style and design guides
Information architecture
Visual appeal
Homepage and navigation
Checkout pages
Mobile apps
Sales funnels
Marketing assets
Sales assets
Logo usage
Press and media materials
Website visuals
Brand colors
Brand fonts
Photography and illustrations
Workflow optimization
Design strategy
What Are the Benefits of a Visual Design Audit?
A visual audit can require a lot of focus and effort, particularly if you've already spent years building your brand. The benefits of the work are well worth it, as a complete audit can help you manage your visual design, usability strategies, and maintain a consistent tone of voice.
Following the findings gleaned from your visual design audit should lead to a more holistic and memorable experience for your audience, consistent design, and a stronger overall brand identity. These things lead to a higher degree of user satisfaction, and a stronger feeling of trust from your audience. Once you implement the results of a design audit:
You'll Save Time
Designers will have a consistent set of guidelines to follow, which means you waste less time reworking brand assets due to mistakes. You'll even find it easier to work with contractors and freelancers using these guidelines.
You'll Differentiate Your Brand
Consistency helps identify your brand in a way that sets you apart from other competing companies, still struggling to find their image.
Your Brand Image Will Improve
An inconsistent brand image leads to confusion and reduces the sense of connection between you and your customers. Your customers will feel confident they know who you are and what you stand for.
Your Conversion Rates Will Increase
Consistent, user-friendly design improves your chances of converting customers, and encouraging repeat purchases. This improves your profit margins.
How to Conduct a Visual Design Audit and Strengthen Your Brand
Before launching into an audit, companies need a plan. This starts with clearly defining measurable objects, like ROI, audit goals, conversion criteria and so on. You'll also need to set a realistic timeline for the evaluation. A basic brand visual audit will start with:
Assessing Brand Appearance and Feel
First, examine the image and feel of your brand. If you have a set of guidelines responsible for dictating your visual strategies and tone of voice, you should be following them consistently. Ask yourself whether you're having the right impact on your audience with your images.
Do your brand colors convey the right emotions or feelings you want associated with your brand?

How are you using color psychology to your advantage?

Do your photography and image choices deliver information while highlighting the unique tone of your company?

Are your marketing materials well designed?

Do your assets look professional, and are they easy for customers to understand?

How legible are your brand assets?

Can your customers read the font you choose for your email marketing campaigns? Is it easy to see your logo on any screen?

Are you image choices relevant?

Do you amplify the message you're trying to send with every photograph, illustration or icon you use?
Share some of you brand assets with people inside and outside of your company and ask them to describe what they understand from the images they see. How do they feel when they see your branding assets, and what are they compelled to do? If the responses aren't consistent, this is a sign you need to make some changes to your brand guideline.
Dollar Shave Club implements it's fun messaging into it's packaging design, website, and everything else it does online, to create a consistent, laid-back experience for customers.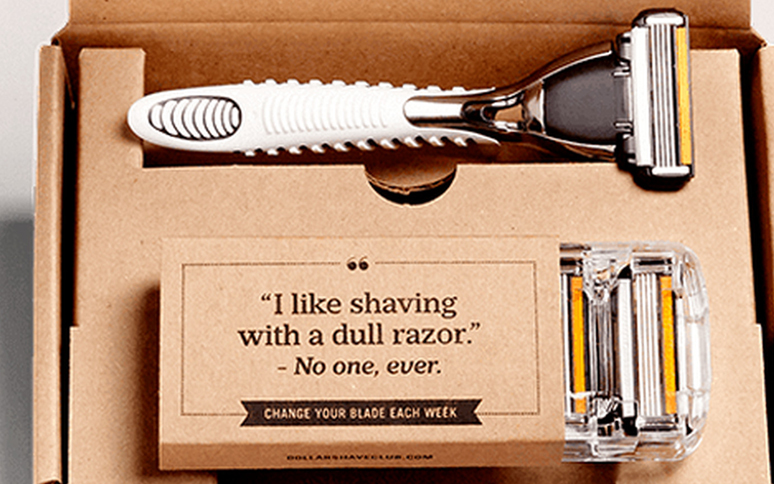 Matching Image to Tone of Voice
While you're considering the visual elements of your brand, it's also important to look at your voice, and how the two elements align. It doesn't make sense to build an image of a fun, laidback and informal business, if your personality is traditional and sophisticated.
How your brand articulates itself can either strengthen or harm your brand image. Sky's decision to implement the despicable me minions into its branding matched the company's voice, which became more about family, fun, and accessibility.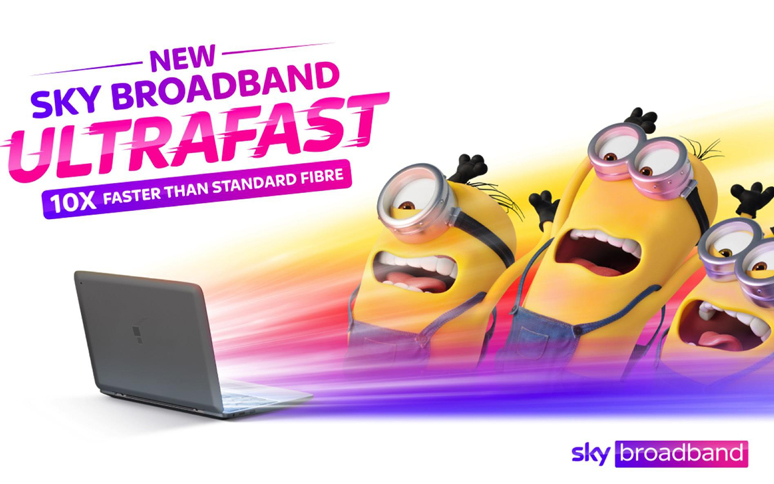 Plusnet's choice of designs matches a voice focused on trust, reliability, and expertise. Colors like blue and white convey the professionalism of the brand, while the USwitch badge gives the company extra credibility.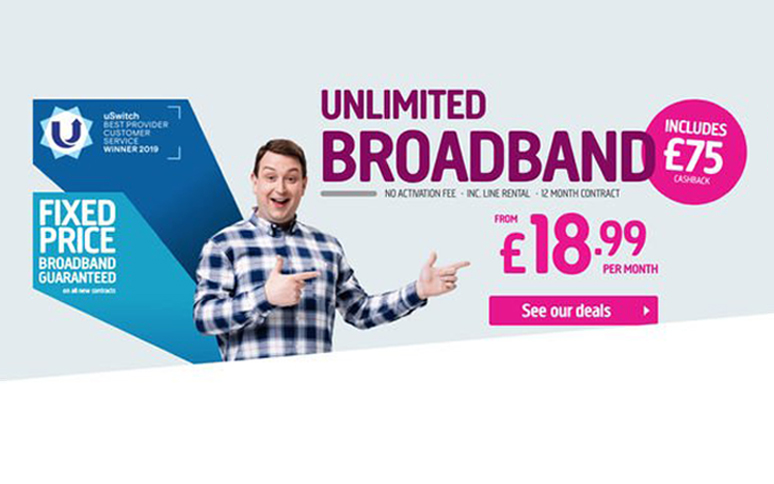 To ensure your brand image and voice are properly aligned, consider the nature of your business. If you're a financial company helping clients with investing, it makes sense to have an authoritative and knowledgeable tone, combined with a clean, professional design strategy. You'd likely combine trust badges from industry experts on your website, with high-quality photos of your employees.
If you're a business selling fresh new ways for kids to eat fruit, you'd probably have a more fun and playful tone of voice, with lots of short words mixed with bright colors to attract kids.
Conduct a Heuristic Evaluation
A good visual design audit concentrates on both how your images make your customers feel and how your assets influence customer behavior. To understand the true impact of your design strategies, you'll need to consider the usability and accessibility of the visual assets you create. A heuristic evaluation looks at the functionality of your app, website, and other customer-facing tools.
Rather than concentrating on the look and feel of the elements in your brand, you'll think about how convenient, and straightforward the customer journey is. A heuristic evaluation could reveal issues with broken links on your blog, or complex purchasing forms which lead to cart abandonment. You'll also need to think about other technical issues, like missing alt tags, and how they impact your appearance on the search engine listings, and contrast between text and backgrounds.
It's easiest to have a third-party auditor walk through some of the customer journeys your clients might have when interacting with your brand, recording anything unusual they encounter on the way. This will help you male changes and test the impact of your alterations. According to Nielsen, a brand visual audit should look at:
Error prevention
User freedom and control
Consistency and adherence to standards
Match between the real world and the system
Visibility of the system status
Recognition (rather than recall)
Efficiency and flexibility
Aesthetics and simplicity
Help for users to recover from errors
Documentation
Heuristic evaluation borders on the edge of a UX audit, but it's definitely worth doing, as it enhances user experience, boosts usability, and makes your design stand out without any errors or detractors.
Decide What You Need to Change
Now you've thoroughly evaluated your visual assets for both appearance, and practicality, you can begin to make decisions on what you'd like to change. It may be worth revisiting your brand vision or mission at this point and asking yourself what you really want to accomplish with your company. Think about:
The personality or archetype you want your brand to have:

What do you want to look and feel like to your target audience? How does that compare with the personality you have now?

What you offer your audience:

What kind of experiences can you give your audience, and are those experiences well-designed? This includes evaluating apps and website.

What you want to be known for:

How do you want customers to remember you, how would you hope they'd describe you to others? Does this match what's happening now?
Interviews with your target audience, and customer reviews will give you a deeper insight into what people really think about your brand, and how closely it matches your goals. If your customer's opinions about your company are far removed from what you wanted to accomplish, you know it's time to make a change.
You can also assess your competitors at this point. Though you don't want to copy the competition with your image, you can get an insight into whether your visual identity is starting to look old or outdated, based on the trends other companies are following. You'll also be able to see which visual assets seem to be drawing the most attention for customers in your industry.
Create Your Recovery Plan
With all the information you've collected from your design audit checklist, you can begin to share your insights, recommendations, and recovery plans with your team. Make a list of the things you need to update, or change based on your findings, and organize them according to priority.
You might start by refining your website design, making it easier for customers to navigate your product pages, find information about your company, and process transactions. After that, you can begin to look at things like marketing assets, and how you can adjust your designs to bring more attention to your unique value propositions.
If you uncovered a number of issues during your brand audit, it may also be a good idea to sit down with your designers and freelancers to discuss the brand identity again. You may need to clarify your brand guidelines and make them easier to follow, so you can avoid making similar mistakes with inconsistencies in the future.
Make sure everyone in your team understands the part they have to play in getting your visual identity back on track. If you're struggling to figure out how you can transform your images or achieve your goals, it may be worth talking to a design agency for expert advice.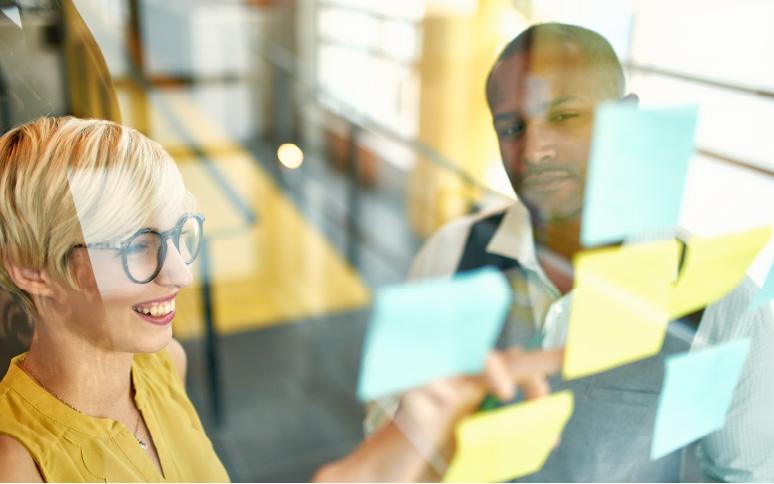 What to Do After the Brand Visual Audit
The primary outcome of a brand visual audit should be a detailed report you can use as guidance to protect your brand image. You might have a number of slides or a presentation you use to highlight what's being done right and wrong with your design assets. The most important thing you can do is ensure you have a clear action plan for what to do next.
Following your design audit, there are three essential steps you'll need to prioritize:
Improve Your Brand Guidelines
Check your brand guidelines and style guides for any inconsistencies, or areas in need of clarification. Adding extra examples of what you don't want and what you do want from your visual assets can be helpful. Make sure you share these guidelines with all your team and ask them for feedback on anything they're not sure about, or don't understand. This should prevent inconsistencies in the future.
Update Your Design System
If you have a substantial number of issues with your branded assets, you might need to get rid of certain tools and start from scratch. You may decide your current logo is too outdated, or too confusing for the image you're trying to create. This could mean hiring a professional design team to help you recreate your central image.
Provide Relevant Training
For both internal and external design professionals working with your team, the right guidance is essential. Make sure everyone in your ecosystem knows how to use design elements correctly and understands the impact you're trying to have. Providing training where necessary and keep the lines of communication open.
Implement New Design Elements
The degree to which you need to redesign your brand will depend on how disjointed your visual image is. If you feel as though there's no consistent identity for your company at all among your design assets, you may need to start from scratch. This means going back to the drawing board to choose new visual concepts, like logos and website designs, based on the business you want to build.
Measure the Impact of Changes
Using the same metrics you used before to measure the value of your previous assets, such as bounce rate or brand recognition, determine how successful your changes are. Keep track of which alterations make the biggest impact on your target audience. This can help you to understand more about your clients, and what attracts them visually to a company.
Plan Your Next Audit
A visual design audit isn't a one-time thing. Most companies need to conduct comprehensive audits on a regular basis, to ensure they're still creating a consistent image. Depending on the size of your brand, you may need to invest in an audit once or twice per year. It's also worth conducting audits whenever there's a major change in your brand, like the release of a new product or service.
Is Your Brand Image Really Painting the Right Picture?
A brand visual audit gives companies an opportunity to revaluate the message they're sending to their target audience. This in-depth analysis highlights what's working for your company, ensuring you can connect with your customers on the right level, and what might be damaging your reputation.
For most brands, an audit every twelve months will be necessary to ensure your assets aren't becoming outdated or disjointed. If you have a lot of visual assets, or your brand is growing and spreading rapidly, you may need to consider more frequent audits, perhaps even with the help of a dedicated design team.
Cohesion and clarity across all of your brand touchpoints will build trust for your company, earn the respect of your target audience, and improve the overall experience of the end user. Don't underestimate the importance of the right brand visuals.